Total Loss Gap featured within the report on Gap Insurance by Which?
Wednesday 11th October 2017 16:33:33
Total Loss Gap featured within the report on Gap Insurance by Which
?
Consumer Champion Which? have recently updated their Gap Insurance price comparison, which now illustrates Total Loss Gap as being the best priced supplier for the policy type, Combined Vehicle Replacement Gap Insurance in the UK. For a number of years, Which? have carried out research into the sale of Gap Insurance in the UK to help give consumers the information they need to make an informed choice on GAP protection.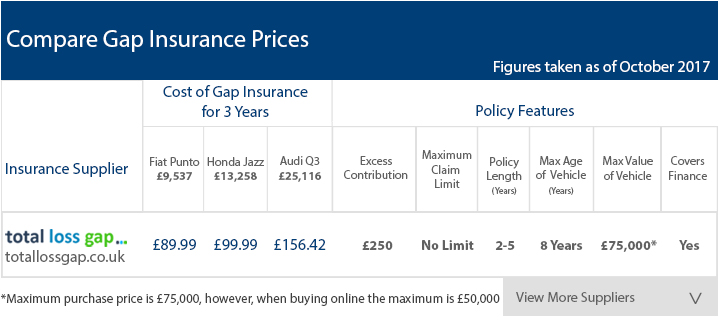 Which? specialise in giving consumers advice, and the report into Gap Insurance has helped saved consumers hundreds of pounds. Which? have recognised the need for a report to be constructed due to the fact that dealerships are known for overcharging for this product. If you are unsure on whether GAP is a good idea or what you should be paying for this form of Insurance, reading the report will give you all the information you need.
The price comparison table has looked at three different price parameters for a quotation for three years cover. When looking at quotations for a Fiat Punto priced at £9,537, Total Loss Gap came out at the best price of just £89.99 for three years cover compared to the most expensive which is priced at £169. However, Total Loss Gap has a number of advantages over more expensive policies. Features such as having no upper claim limit, (i.e no set payout limit) and the fact that you can transfer the policy over to your next eligible vehicle completely free of charge, help separate us even more from other providers.
One comparison looking at the Audi Q3 TDI priced in the region of £25,116, illustrated again just how cost effective buying Gap Insurance through Total Loss Gap can be. For three years cover with no upper claim limit, Total Loss Gap came out at the best priced option at just £156.42. The next best option came out at £161.07 however, this had a maximum claim limit of just £15,000, compared to the no upper limit offered by Total Loss Gap.
Don't pay more than you have to for the most comprehensive form of Gap Insurance, Combined Vehicle Replacement. The report also highlights a number of main policy features for you to ensure are included, in order for the policy to be a comprehensive option. The list of features include an excess contribution paying a certain amount towards your own motor insurance excess as well as having a suitable claim limit option.
Both features are included as standard with a Total Loss Gap policy with policy contributing as much as £250 towards your motor insurance excess and the policy having no set upper claim limit.