Your Comprehensive Motor Insurance Guide
Suppose you need to purchase a new car and are considering buying comprehensive insurance. In that case, this article will help you learn more about the different types of coverage, cost factors, and requirements. It also includes tips for choosing the right plan for your needs.
The different types of motor insurance coverage
There are three major insurance types in the UK for car insurance cover. They are:
Comprehensive
Third-party, fire and theft
Third-party
These all offer different levels of cover, so make sure you're aware of the difference before purchasing.
The minimum legal requirement in the UK is to have third party vehicle insurance. This means you are insured should you cause damage to others whilst driving your vehicle.
What is Fully Comprehensive Car Insurance?
Fully Comprehensive Car Insurance is a form of car insurance that covers both third parties, and the insureds own damage or losses. It has the same features as Third Party Car Insurance so that it will cover the costs of claims made by others against the insured. But comprehensive cover also protects damage to your car in certain circumstances when you make a claim.
When you take out a Comprehensive Car Insurance policy, the insurer will ask for all kinds of details about your car, like its make and model, year of registration etc. If part or all of your vehicle is damaged in an accident that wasn't your fault, then they'll pay to repair it (up to their agreed amount).
If your car is stolen, then your insurance will cover the cost of replacing it with an equivalent vehicle to the one insured at the time of the claim. That is the same age, mileage, specification and condition at that time. This is called a market value settlement.
If the car was brand new when you buy it, some (not all) fully comprehensive motor insurance will replace the car with a brand new one within a maximum period from when you purchased the car. This period is often one year. Some insurers will provide new car replacements for up to two years.
Examples of how fully comprehensive car insurance can cover you
Scenario 1
Peter has a fully comprehensive car insurance policy with his insurer. He had an accident with another driver that was his fault and had to go through the claims process.
The cost of repairs for both vehicles came out to be £15,000.
In this case, Peter's insurer will settle the claim by paying the total repair costs of £15,000 to repair both his car and the car of the third party.
Scenario 2
Peter's car was stolen, reported to the police but not recovered. The motor insurance company writes off the car as a total loss.
Peter's car is five years old and has been in his possession for three of those so far. He bought it second hand for £20,000 with no additional features or modifications made at any stage during its life (apart from regular maintenance).
The car was insured for its market replacement value at the claim time, which was £10,000. This is what Peter receives from his motor insurers in a settlement.
Cost Factors and Requirements for motor insurance premiums
Indeed, there are lots of factors that we look for when comparing your personal quote and price. These common factors in car insurance that determine the price can include:
• Age and experience of the driver: Insurance companies are keen to know that drivers have been driving for a certain period before driving for themselves. A year or two is usually enough, but not all insurance providers offer this price reduction because some insurers see it as risky.
• Location and location-based factors play an essential role in determining the price of car insurance. In other words, different locations have more accidents and thefts, which affects your premiums' cost.
• The type of car. For example, the insurance price varies depending on if you own a sports utility vehicle (SUV) or an economical compact. And it also depends on whether your car has a manual or automatic gearbox. Cars are split into different insurance groups, currently 1-50. The higher the insurance group, the more your motor insurance premium may be.
• Optional coverage. A range of optional extras can be added to your motor insurance cover that can impact the premium. These can include key insurance and windscreen cover.
• Your driving record. This is a important factor that determines the price of your premiums. If you have been involved in any accidents or speeding fines against your name, then it will affect the cost of insurance premiums for drivers with poor records significantly higher than those who do not have one!
• No claims bonus (NCB). If you have no claims and accidents, car insurance companies will reward you with discounts. This means that the more years of NCB that accumulate on your record, in general terms for most insurers, this drops their premiums significantly!
Other Important Considerations when choosing a comprehensive insurance policy
We've already mentioned that comprehensive car insurance usually is the most expensive level of protection. But even so, it may be worth paying extra if you have a high value, high-performance or sports vehicle with unique features and accessories. A fully comprehensive cover usually protects these in case they get damaged during an accident.
Some insurance providers offer a lower motor insurance premium if the car has security features such as installing an immobiliser or alarm system.
If you have other family members living at home, it may be worth considering adding them to your policy since they can benefit from added protection and discounts on their premiums too!
The more drivers included in one comprehensive insurance policy, the lower each person's premium will be. However, suppose you have more than one driver on your motor insurance, and they are young drivers under 25 years old, for example. In that case, it may negatively affect premiums since this group is considered to be high-risk by car insurers.
The best time to renew or upgrade your comprehensive car insurance policy is when it expires. This means you can shop around in the lead up to this to get the best deal you can. It means that there will be no lapse in your cover, which can affect NCB levels.
Tips for reducing your annual motor insurance premium
If you feel confident and want to take advantage of the insurance market, here are some tips on how you could lower your premiums by up to 40% or more.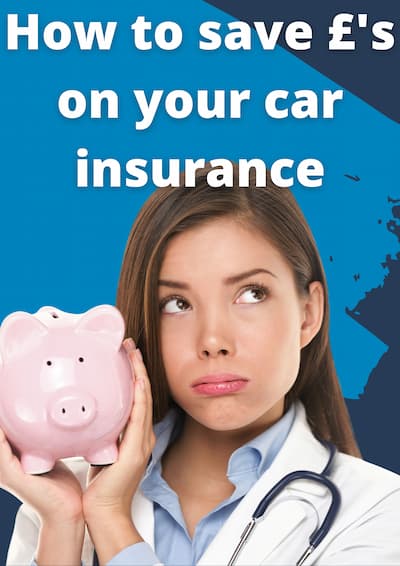 • Increase and protect your No Claims Bonus (NCB)
A No Claims Bonus (aka a No Claims Discount - NCD) is something you can accumulate over the years for careful driving and no claims. Every year that you do not make a claim on your motor insurance means you earn a higher no claims discount. This means at renewal time, a percentage discount is applied to your premiums.
You can take out 'protected no claims' with some insurers, which allow you to make a claim on your motor insurance without losing your no claims discount.
• Shop Around for the Best Price
If you are renewing, call around and compare prices from other providers. It doesn't take long to do this, but it could save a significant amount of money since car insurance premiums vary between insurers.
Even if your insurer has just raised its price when your current cover expires, it may still be worth calling around to see if there is a better deal elsewhere. Just make sure you compare like-for-like policies, particularly the level of cover and bonus features such as legal protection or breakdown assistance included in each policy.
Comparison websites can be a great place to start to check insurers against each other. However, some insurers do not appear on comparison websites because they may have to pay a fee to the website owner. Make sure you also check the rest of the market for the best deal possible.
• Reduce Your Annual Mileage Usage
If your annual mileage has increased significantly since taking out motor insurance, it may be time to reduce your mileage. This can be done by using the car for work less frequently, or you could hire a vehicle once a month if this is cheaper than driving yours and then cancelling the policy when it's not in use.
You could also think about taking the car to work less frequently, which can reduce your mileage, but if you do this, then be aware that it may affect any NCB level.
• Increase the average age of drivers on your policy
If age is a factor when renewing or upgrading your policy since younger drivers are considered more at risk and therefore have higher premiums than those over the age of 25, for example, then consider taking on a driver over the age of 65 to insure your car.
Do this, and they have no previous convictions and clean driving history (in other words, they are a safe driver). It can reduce premiums by up to 30%, which is worth considering if you're renewing or upgrading your policy soon, as well as adding a new driver to your motor insurance.
• Try and Avoid Using the Car for Short Trips Under Five Miles
Many people automatically opt for a comprehensive policy because they want it to be covered if there's an accident when using it, but this may not always be economical or cost-effective, depending on how often you use the vehicle for short journeys.
• Consider increasing your voluntary excess payable. Nearly all motor insurance is quoted with a compulsory excess contribution. This is the cost you must contribute to any claim that is made on the policy. You also have to option to add a voluntary excess contribution to the compulsory excess amount.
You can consider opting to pay more involuntary excess, and this can lower your overall annual premium. Remember, you can cover the costs of paying your motor insurance excess by taking out a yearly motor insurance excess policy.
FAQs Related to Comprehensive Car Insurance Plans
Do you need to have fully comprehensive motor insurance?
No, the legal requirement in the UK is to have third party insurance only. You do need car insurance, but it is your choice to take fully comprehensive cover or not.
Can you drive any car if you are fully comprehensive?
This can depend on the specific terms of the motor insurance policy. Insurance policies will differ. However, a private, fully comprehensive policy will generally cover the vehicle(s) shown on the motor insurance policy only.
Does comprehensive car insurance include contents?
Comprehensive car insurance will not typically include contents cover, but this varies between insurers and may be limited in some cases.
What is the difference between third party insurance and comprehensive insurance?
A third party insurance policy is the most basic type of car insurance. It covers some specific levels against damage to other vehicles or injuries that you may cause while driving.
Comprehensive car insurance is the highest level and protects in more situations. It means it will cover damages to your car and done to other vehicles as well as thefts and vandalism. Third-party only covers a third party, i.e. other road users, not you.
Third-party insurance is the minimum legal requirement to drive on UK roads.
What is the difference between third party, fire and theft and fully comprehensive insurance?
Third-party fire and theft is an alternative level of car insurance in the UK. It protects third parties' property damage (e.g. someone else's car or injuries you may cause while driving.
In addition, you can be covered for fire and theft incidents for your vehicle.
Fully comprehensive car insurance provides the same level of cover as third party, fire and theft plus fault damage claims to your car.
Why do I need fully comprehensive car insurance?
One of the main reasons to buy Fully Comprehensive Car Insurance cover is because it provides all-encompassing protection at an affordable price. In addition, it offers more features than Third Party only insurance, for a much lower cost.
Does fully comprehensive motor insurance cover everything?
No, like all insurance products, it will have terms, conditions and limitations. One prominent area that may not be covered, or at least for a limited time on new cars, is the vehicle's depreciation.
Most fully comprehensive motor insurance will cover you to the current market value of the vehicle. This will almost certainly be much lower than the price you originally paid for it.
If you are concerned about covering depreciation if the vehicle is written off, you would need to look at Gap Insurance for that situation.
Who can drive my car if I am fully comprehensive?
This will depend on the terms of your motor insurance. With many private fully comprehensive policies, you would expect the primary insured and all other drivers listed on the policy (known as named drivers) to be fully comprehensively insured to drive the vehicle listed.
You may have a motor insurance policy that allows your car to be driven by anyone using it with your permission.
Is fully comprehensive insurance worth it?
In most cases, yes. However, you may want to think whether your car will be used regularly for short journeys under five miles or if there are likely to be other drivers listed on the insurance policy who don't reside with you full time.
If this is true, then adding another driver could reduce your costs.
The other thing to consider is the value of the vehicle. Would the costs of a potential replacement be such that it would impact you financially to pay it? If this is the case, fully comprehensive insurance may be better for you than third-party cover only.
If you're considering purchasing a car, it's essential to know your insurance needs. Comprehensive motor insurance covers damages and accidents in more situations than third party only cover would offer- making it the best option for most people.
However, if the vehicle is of a low value, or you do not use it very often, you may find other levels of insurance, other than fully comprehensive, that could provide better value for you. However, in general, fully comprehensive motor insurance provides the correct protection and peace of mind for the majority of car owners.