Alloy Wheel Insurance from Total Loss Gap, including cover for laser and diamond cut finishes
Updated 24th February 2020
Alloy Wheel Insurance from Total Loss Gap can cover the cost of cosmetic repairs to car alloys. This can be following a scraping or curbing of the wheel.
Our Alloy Wheel protection would include cover for diamond and laser cut alloys too. These ever more popular types are often excluded from other policies in the market.
Alloy Wheel Insurance is available for:
cars less than 3 years old
less than 50,000 miles on the clock
bought from a Franchised Main Dealership within 30 days of buying our Alloy Wheel policy.
Our Alloy Wheel repair insurance is, in our view, the market leader for many reasons. Here we will explain why.
We all know how easy it is to scuff an alloy wheel accidentally, and how frustrating that can be. The 'kerbing' an alloy is easily done. Recognisable with the sound of the grinding wheel against a kerbstone.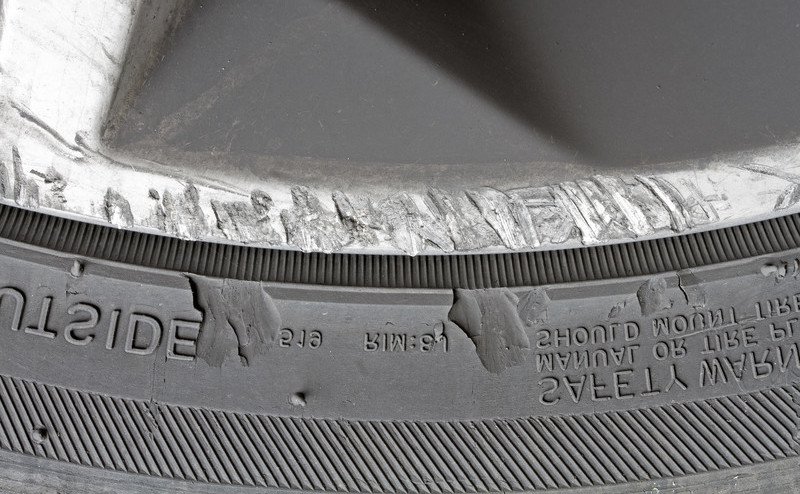 Scuffs can be not only annoying but also have a detrimental effect on the resale value of your vehicle. Further damage to untreated scrapes can occur where water ingress leads to corrosion. Leaving 'kerbed' alloys is not always a good idea. Repair bills can be expensive and unexpected. The great news is that you can get insurance to cover the cost of cosmetic repairs.
Many car leases also have financial penalties if you hand back the vehicle with alloy wheel damage. Alloy Wheel cover can help ensure you have no large bills for the vehicle you hand back.
Alloy Wheel Insurance is purchased from many sources these days. The motor dealer will often have a product they can provide to you, and alternatives can be found online. However, many Alloy Wheel Insurance products EXCLUDE diamond and laser cut alloys provided on many cars. The policy from Total Loss Gap our policy does not. In fact, many car owners do not know they have diamond or laser cut alloys. They can innocently buy 'standard' alloy wheel insurance only to find a claim rejected.
Are you thinking of adding Scratch and Dent (Minor Bodywork damage) Insurance to an Alloy Wheel Insurance policy? If so, have a look at our all-new SMARTCare product.
It combines Alloy Wheel Insurance, Scratch and Dent Cosmetic Repair Insurance, and as a bonus, adds Interior Repair Insurance into one, combined product. For more information CLICK HERE to take a look.
What is a Diamond or Laser Cut Alloy Wheel?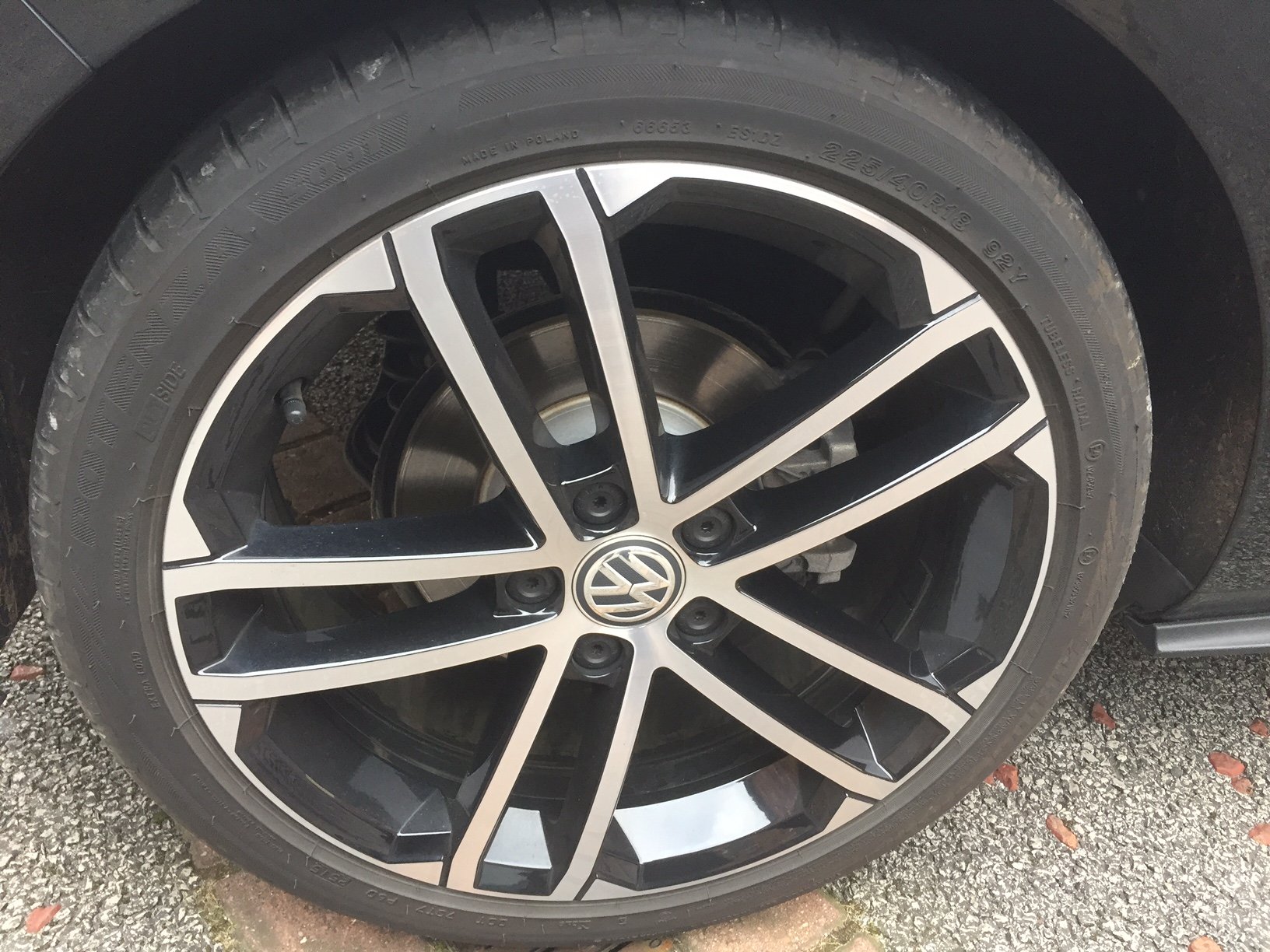 A repair on a diamond or laser cut alloy can be more complicated than a repair on a standard construction alloy. Often it may need the alloy to go to a specialist for a repair. This means a higher repair cost. This can be a reason why most alloy wheel insurance exclude these wheels from cover.
When you compare Alloy Insurance products in the market you find few cover diamond/laser cut.
Please Note: Not all Alloy Wheel Insurance policies are the same
We offer more potential claims covered, lower excesses, and less excluded alloys. Plus higher replacement alloy contributions when your current alloy suffers irreparable damage. Total Loss Gap Alloy Wheel Insurance gives more cover and more value!
4 claims per 12 month period
Including damage to diamond or laser cut alloys
£10 excess/call out charge per claim payable
£150 contribution to a replacement if the alloy is beyond repair
Mobile service to your home or work. These employ a SMART repair (Small Motor Accident Repair Technology)
If factory refurbishment required then alloy sent by courier at no charge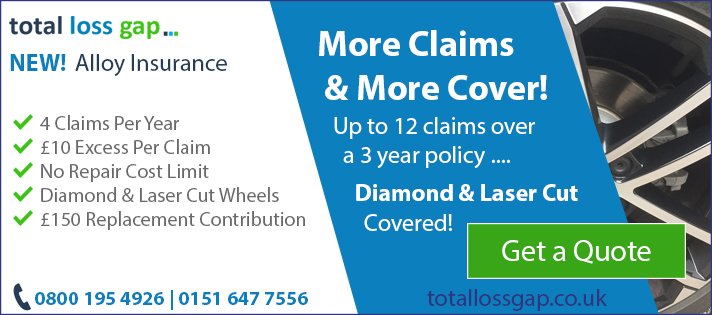 LATEST PRICES (as of August 2020) : 2 year cover from £151.45 | 3 year cover from £191.13
More claims and a lower excess? And that is not the end of the advantages
If the alloy needs a factory refurbishment most alloy wheel policies will not allow for this. This is why diamond and laser cut alloys are excluded from many alloy wheel insurance products.
With the Alloy Wheel cover from Total Loss Gap if the repair is beyond a mobile service then we look at 'plan b'. Then it can be sent off by courier, at no cost to you, to a specialist refurbisher. The factory refurb of your alloy will is then sent back to you by courier, again at no cost to you.
What if the alloy cannot be repaired cosmetically? This might happen if the wheel has buckled or cracked. If it is unsafe to refurbish the alloy, then our policy can contribute up to £150 towards a replacement alloy. Again many online competitors' products do not contribute anything towards the replacement. Even ones that do may cover less than £100.
It is possible to buy alloy wheel insurance as a 'stand-alone' product. This means you do not have to buy complementary products like GAP Insurance, Tyre Insurance, Cosmetic Repair Insurance or Motor Excess Insurance too.
But, we often see that people looking at protecting the cost of repairing their alloys will also be interested in buying these products also. You can do this with ourselves. You can also look at 'combined' products that cover give you even better value. Total Loss Gap provides some alternatives, that combine alloy wheel insurance with other covers.
By combining products you can find the 'combined' premium is lower than buying cover individually. You can also find that the features can be better too.
Examples of combined cover will include:
This policy allows up to 4 claims for both the alloy wheels and the tyres per year.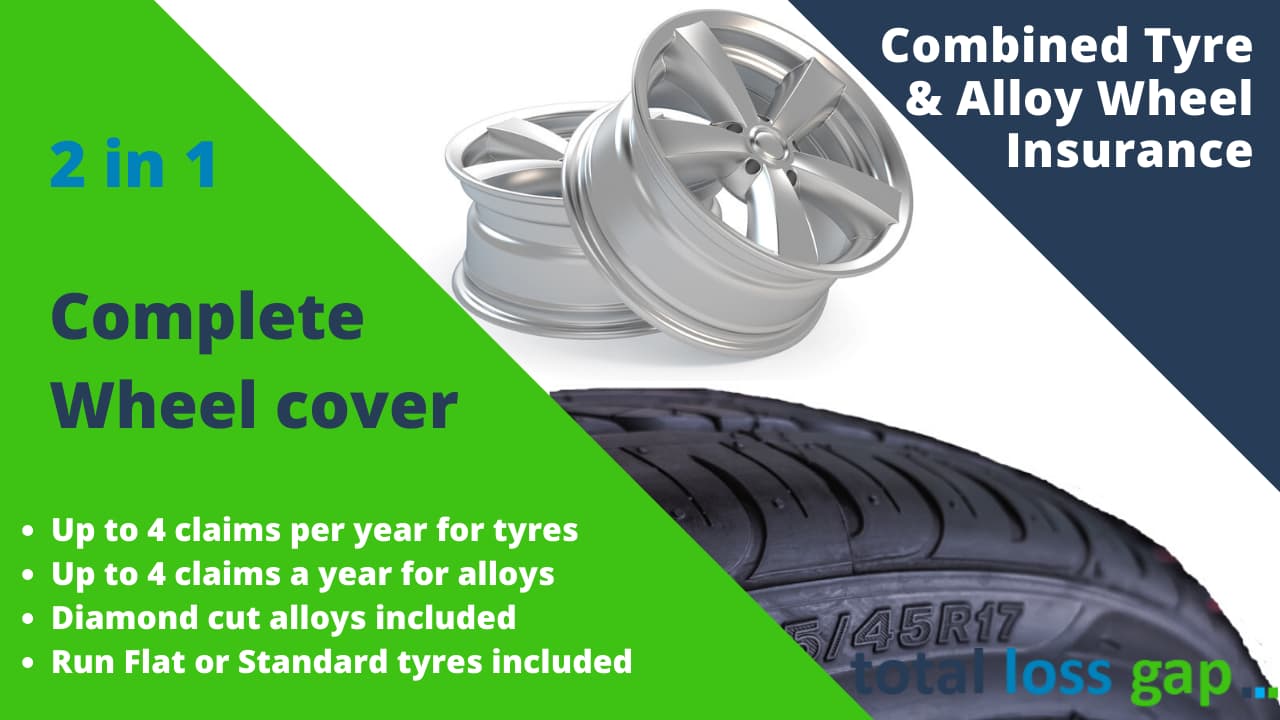 The policy will cover diamond-cut alloys, as per the stand-alone alloy wheel cover. The policy will also cover run-flat and standard tyre construction.
SMARTCare cover combined the alloy wheel insurance product with two further covers. The first is Scratch and Dent Insurance, covering the costs of minor bodywork repairs. The second cover is one that is not available individually. It is Interior Repair Insurance that covers the costs of interior repairs to trims and upholstery.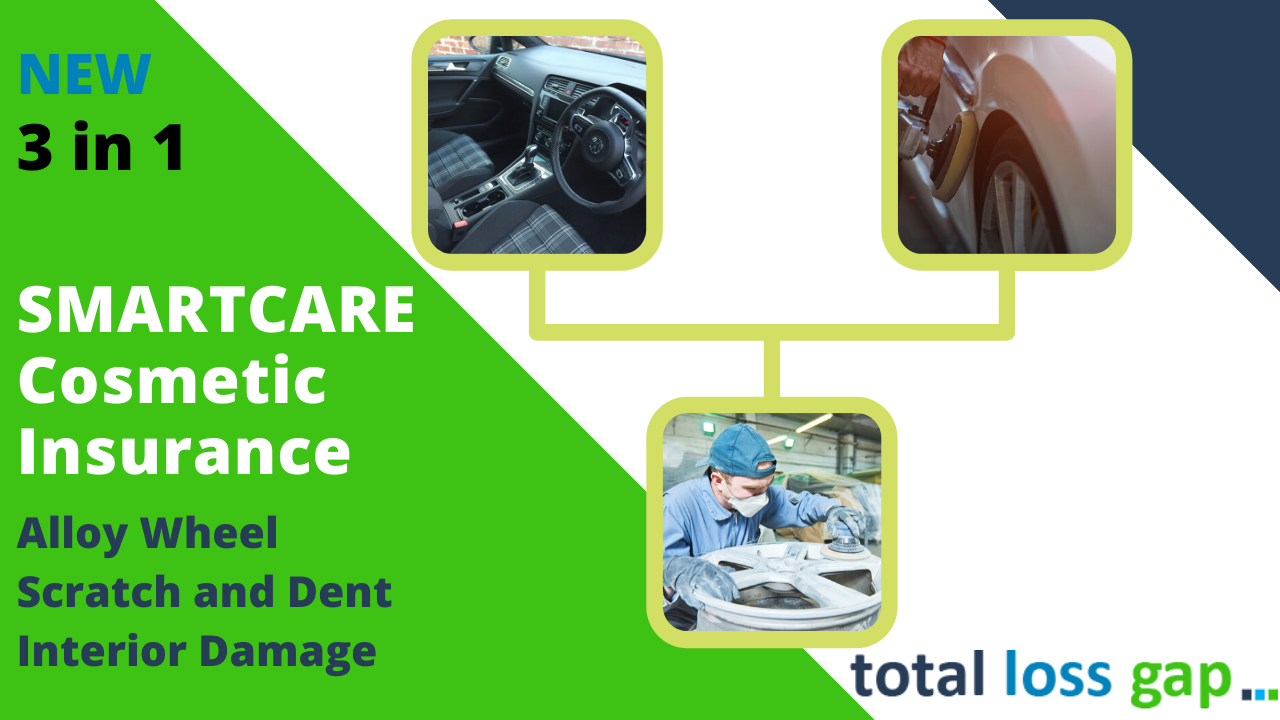 This policy allows a maximum combination of 5 claims per year. So, for example, you could have two claims for alloy wheel repairs, two claims for bodywork damage, and one repair for the interior in one year.
Another advantage of this policy is that it will allow alloy wheel cover for up to 22-inch wheels. This is more than the 20-inch maximum on the stand-alone or Combined Tyre & Alloy wheel product.
SMARTCare Cosmetic Insurance also covers up to 30cm diameter of damaged bodywork. The maximum on the stand-alone Scratch and Dent Insurance is 15cm.
Alloy wheel insurance has terms and conditions. Key eligibility factors for our policy include:
is not used as a business vehicle, eg taxi, courier, driving school, sales rep solely for business use
your vehicle is a car. Motorbikes, vans, motorhomes, couriers, taxis, and driving schools are all excluded vehicles.
your vehicle is less than 3 years old AND has less than 50,000 miles on the clock when you buy the policy
you have not owned your vehicle for more than 30 days
you purchased the vehicle from a VAT registered, franchised Main Dealer or leasing company.
your alloy wheels are no more than 20 inches in diameter
we do not cover pre-existing damage
Certain types of specialist alloy wheels are not repairable by cosmetic repair techniques. These types cannot be covered by this insurance. This includes but is not limited to: Chrome finish wheels, multi-piece wheels ("split rims"). Powder-coated, Magnesium, Flange-cut, Hydro-dipped and anodised wheels, Pinstripe, and powder-coated finishes.
GET A QUOTE AND SEE HOW COST EFFECTIVE ALLOY WHEEL COVER CAN BE!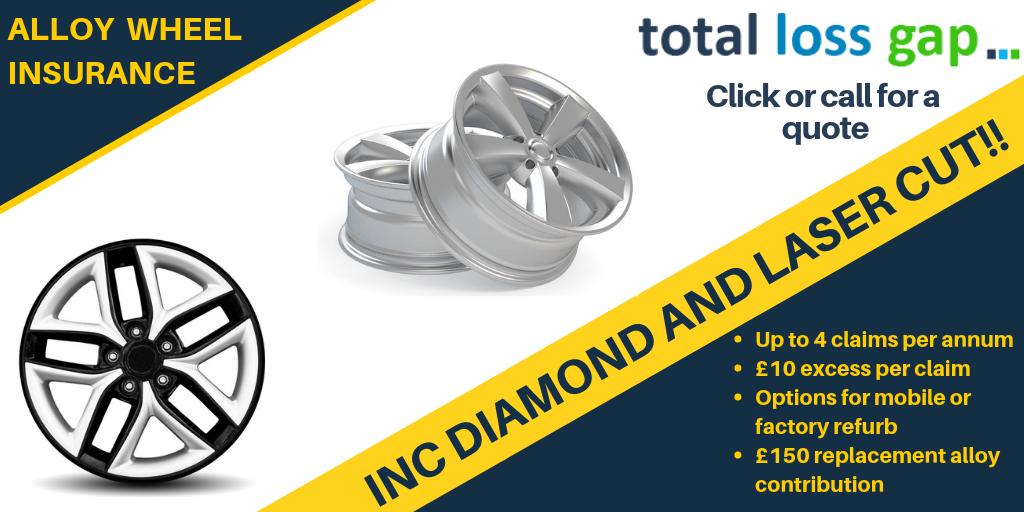 In the event of a claim, we ask you to follow this procedure:
Notify our claims team within 30 days of the incident that damaged your wheel, by calling 0114 321 9877. Please have your personal and vehicle details to hand.

The claims team will assess your claim, and arrange the repair. They will verify that the damage is due to accidental or malicious damage. Only these are covered by the policy. To speed up this process it is advisable to take a photograph of the damage and send it to [email protected]. This helps the in order for the engineers to assess the damage

The claims team will arrange for an approved repairer to come out to repair the alloy. If a call-out is required then a £10 call out charge is taken. An approved repairer will make an appointment to come to your home, or place of work, to process the repair. Please ensure that the area provided for the repairer to do their work is sufficient and safe. Also they may need access to a mains power supply.

If the damage to the alloy is such that it requires a full factory refurbishment. The claims team will organise a courier to collect the alloy and send it to a specialist repairer. This process can take up to 10 working days. Once repaired, the alloy wheel is returned to you by courier. If you do not have a spare wheel for the vehicle then your vehicle will be immobile whilst the repair takes place. You may also, subject to agreement with our claims team, nominate a local repairer. This may be more convenient for you.

If the 'call-out' charge has not been actioned then a £10 excess will be charged. Only one call out charge/excess will be payable per single claim. If you have two alloys repaired at the same time then two £10 excess charges are payable.

If a SMART repair is not possible then our Alloy Wheel Insurance can pay up to £150 towards a replacement alloy. This option will count as two claims on your policy.
Significant exclusions (these are examples and not exhaustive. For full terms and conditions please click the policy terms links at the bottom of the page)
Damage that is not due to accidental or malicious incidents. For example, fading of lacquer finish, chemical reaction, or corrosion.
Damage that occurred prior to you purchasing the Alloy Wheel Insurance policy from Total Loss Gap
Alloys that were not the original alloys fitted to your vehicle
Alloys fitted to motorbikes, scooters, three-wheeled vehicles, quad bikes, kit cars, commercial vehicles, panel vans, vehicles over 3500kgs
Pre-existing damage
Any claim that brings a total of more than 4 in the previous 12 month period
Any replacement alloy cost above £150
Any claim made more than 30 days from the incident that caused the damage
Any repair required outside mainland UK, Jersey or Guernsey.
With the Alloy Wheel Insurance from Total Loss Gap, there are a number of approaches that we can take to the process of repairing a diamond cut alloy.
The first option is to get a mobile repairer to visit your home, or place of work (whichever is suitable and safe for a repair). For this purpose, the claims team may use a national franchise like Revive. If this option is not suitable then we can look to sent the alloy to a specialist alloy wheel refinisher for a factory refurbishment. An example of a company we may use for this would be Wheel Doctor. This may happen where the damage is too severe for a mobile repairer to attempt a repair.
Well it may not come as much of a surprise to learn that refurbishing a diamond cut alloy wheel is hardly a DIY job for the unskilled hand. As the term 'diamond cut' may indicate, these style of alloys get their name through the diamond-tipped tool used to machine finish the surface of the alloy.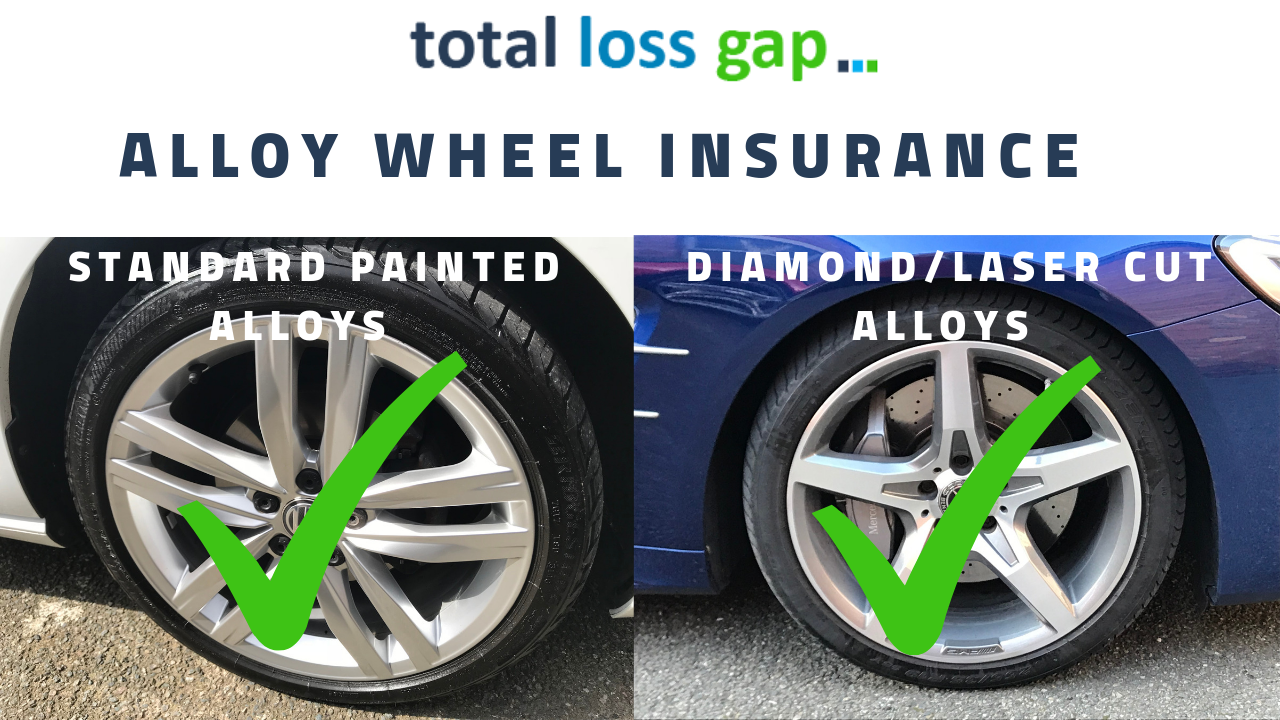 To refurbish the a damaged wheel the damaged area is cleaned and rubbed down. Then the wheel is primed and painted.
The face of the alloy wheel is then 'mapped' on a computer to allow the diamond cutting process to remove a very thin layer of metal. This provides the two-tone finish often seen with diamond-cut wheels.
The alloy is lacquered and baked to a hard finish.
If I claim for two alloy wheels at the same time then how many claims would this be?
You can make a claim for two different repairs at the same time (you may have caught both the front and rear alloy on a kerb at the same time). This will count as two claims on your policy and a call out/excess charge may be payable for both claims.
Can I save up all my claims until the end of my policy and claim all at once?
No. You must report any damage as soon as you see it. The reason for this is that any exposed metal surface my see water ingress. This can further damage the alloy and make any repair impossible. We ask that you contact the claims team as soon as you can, no more than 30 days from the incident that caused the damage. If the damage is reported outside this timescale we cannot guarantee a claim can be processed.
Do claims carry over if I do not make 4 in a year?
No. The maximum number of claims we allow is 4 in a 12 month period. This allows for, on a 3-year policy, 4 in year one, 4 in year two, and 4 in year three.
I have ordered an upgrade on the standard alloys. Will these be covered?
If they are manufacturers standard alloys then they should be fine. Many models offer a basic alloy and then monetary upgrades for higher-spec alloys fitted at the factory. Our Alloy Wheel cover can accommodate this.
I am considering buying 'aftermarket' alloys. Can these be covered?
No. We cannot cover alloys that were not the original manufacturer supplied alloys with the vehicle.
A specialist tool is required to remove my wheel, can you cover this?
Some manufacturers require a special tool to remove the vehicle. This may involve the wheel going back to a franchised dealer to complete this process. We are unable to cover a vehicle that requires this process.
I live on the main road. Will the mobile technician be able to complete a repair?
Any mobile repair must be done in a safe environment. A mobile repairer will not be able to do this on the side of a road. Ideally they will need a driveway or works car park. They may also need access to a power source.
What happens if the wheel can't be repaired by a mobile repairer?
If a mobile repair is not appropriate then the claims team can arrange for the wheel to be sent to a specialist, unit-based refurbisher. This will involve the wheel being sent away by courier, repaired, and sent back to you.
As the wheel may be away for a period of up to 10 days this process may not be suitable for everyone.
If this is the case then speak to our claims team. With their agreement, you may be able to nominate a unit-based repairer close to you. This means you may be able to take the vehicle to them directly and avoid the wheel being away from the car.
Do I have to take other products from Total Loss Gap in order to buy Alloy Wheel protection?
No. Some providers do require you to buy Gap Insurance from them to qualify to buy Alloy Wheel Insurance. We do not. Total Loss Gap does offer a range of products and you can buy them all individually. These would be
Gap Insurance (Invoice & Replacement Combined)
You can also combine Tyre with Alloy Wheel Insurance to buy our Combined Wheel Insurance. This is a lower premium than buying tyre and alloy wheel insurance separately.
How much does it cost to repair an alloy wheel?
Costs can vary depending on the type of repair (mobile or unit repair), size of the wheel, and whether they are standard or diamond-cut wheels. We would expect a typical standard wheel repair to be starting at £60. If the alloy is a diamond cut alloy then prices can start at around £80.
Are alloy wheel sizes covered with a Total Loss Gap Alloy Wheel policy?
We can cover alloy wheels up to, and including, 22 inches in diameter. If you want to cover your wheels and bodywork then we do have an alternative policy on our SMARTCare Cosmetic Insurance. This is a combined Alloy wheel, Minor Bodywork, and Interior Repair Insurance policy. It will also allow cover for alloys up to 22 inches in diameter.
Is the price I get for an alloy wheel quote a one-off premium for the full term or an annual premium charge?
The price you are quoted is for the full term you have in the quote. For example, if you are quoted £170 for 3 years then that covers you for the full 3-year term.
Can I transfer the policy to a new owner of the vehicle?
If you sell the vehicle privately then the policy can be transferred to the new owner. An administration fee of £35 is payable to do so. A nice little added extra to help you sell the vehicle!
Can I buy Alloy Wheel Insurance if I bought the vehicle privately?
No, we can only provide cover if you have bought the vehicle within the last 30 days from a franchised motor dealer (ie the main dealer).
How am I protected if something goes wrong?
If you are unhappy in any way with your policy or claim then we would urge you to contact us immediately. We have a formal claims procedure laid out in the policy terms but a quick telephone call can often resolve a situation quickly. You are our customer and we want to make sure things go smoothly.
If you have a problem with a repair that had been provided then the repairer will have guaranteed their work. Please call our claims team to discuss and to agree on a route of rectification.

Ultimately the policies are covered by the Financial Services Compensation Scheme in the UK.
For any disputes with claims the products also fall under the jurisdiction of the Financial Ombudsman Service. You can find out more details of those organisations but clicking the links under their names.
Am I protected if the alloy wheels are stolen?
No, alloy wheel insurance only covers for cosmetic repair following accidental or malicious damage. If the alloys are stolen then that is something you would need to discuss with your motor insurer.
Can the insurance cover an alloy wheel that is corroded?
It would be impossible for a repairer tp guarantee a repair on an alloy wheel that is corroded. Water or chemical ingress means that, even after a repair, corrosion can break out again on the site of the repair. Therefore, it is important to report any damage as soon as possible after you have spotted it. To confirm, our Alloy Wheel Insurance WILL NOT cover any repair where the alloy wheel is corroded or discoloured.
How long does it take to repair an alloy wheel?
This really depends on the type of damage, and how it can be repaired. If you make a claim then the claims team will be able to advise better once an assessment of the damage has been made.