SMARTCARE COSMETIC INSURANCE
3 in 1 Alloy Wheel, Minor Bodywork Damage and Interior Repair Insurance
Smartcare Cosmetic Insurance is a combined package of the traditional Alloy Wheel Insurance, Minor Bodywork Damage plus Interior Repair Insurance products vehicle buyers often seek available in the marketplace.
All are designed to protect you against the costs of minor cosmetic repairs to your vehicle. Such damage, if left, can not only be unsightly but also have a detrimental effect on the value of your car.
Smartcare Cosmetic Insurance is comprised of three elements: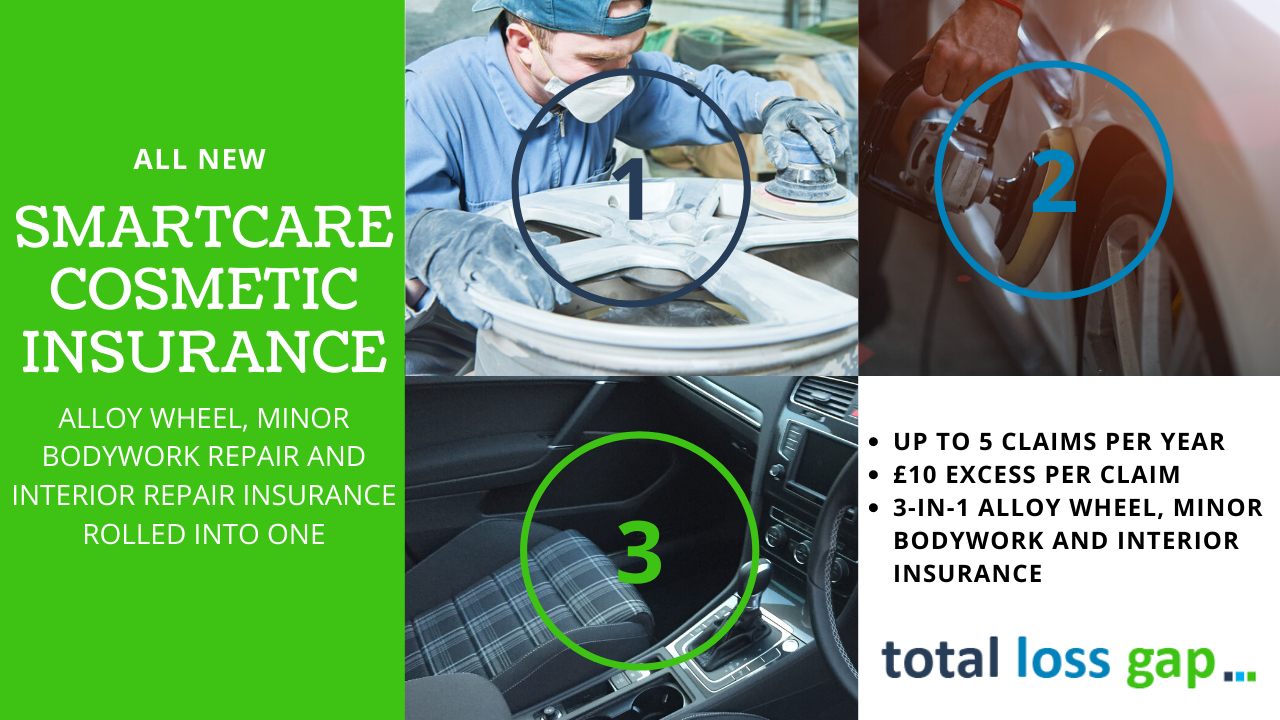 This provides cover against the cost of a cosmetic repair to your alloy wheel following damage sustained in normal road use. Typically this would happen when you contact a kerb, leaving a nasty scrape on the alloy wheel surface.
Repairs can be undertaken by a mobile repairer (as arranged by the claims team with a nationally franchised repairer). There are also options to send the alloy away to a central repair hub. The repair takes place and the alloy is returned to you by courier. The third option is that you can, with prior agreement of the claims team, nominate a local repairer, if that is more appropriate and convenient for you.
If the alloy wheel is not repairable then a £150 contribution can be claimed against the cost of a replacement alloy wheel.
This type of insurance protects you against the costs of cosmetic repairs to minor damage to your vehicle bodywork. Typically this would be a scuff, scrape or dent to the bodywork of your vehicle.
The damage would be repaired by a mobile repairer, appointed by the claims administrator, who would come to your home or place of work.
The third type of insurance included is designed to cover the costs of minor repairs to the interior of your vehicle. These would typically include:
tear to seat fabric

graze to leather upholstery

damaged plastic or leather trim

cigarette burns (that have not burnt into the seat foam/padding).
Smartcare Cosmetic Insurance provides cover against the cost of performing a cosmetic repair to your vehicle. This is where the damage is repaired by a specialist repairer using 'smart' (Small And Medium Repair Technique ) repair process.
Maximum of 5 claims per 12 month period (eg, on a 3-year policy up to 5 claims in year one, up to 5 claims in year two and up to 5 claims in year three)
Chip : a chip no more than 5mm in diameter
Light Scratch : a scratch no more than 30cm in length, 3mm in depth and sits across no more than two body panels
Minor Dent : a dent no more than 30cm in diameter, 3mm in depth and sits across no more than 2 body panels
Scuffed Bumper : a scuff or dent to a bumper no more than 30cm in diameter and 3mm in depth
Alloy Wheel : scratch, grazed or kerbed alloy damage to the original alloy wheels fitted to your policy.
Better value - At Totallossgap.co.uk we offer 'stand-alone' alloy wheel and cosmetic 'Scratch and Dent' insurance cover. However, when adding the cost of these products together then the cumulative costs can be much higher than buying the combined Smartcare Insurance product.
Also, you can spread your claims across the various types of cover. If you bought a 'stand-alone' Alloy Wheel policy you may not need all four of the claims it permits. However, with our Smartcare '3 in 1' Insurance you could make, for example two claims for alloys, two claims for body repair and one claim for an interior repair all in one year.
Hand-back charges - many vehicles are secured on a variety of lease agreements these days. At the end of those lease agreements there can be financial penalties if you hand back the vehicle with damage. By getting these types of damage repaired as you go along, you can look to avoid these expensive hand-back charges at the end or your term.
One additional feature to this product comes with the cash contributions available where a repair may not be possible for the claim you may make.
These work in the following ways
Where an Alloy Wheel is not repairable then there is a £150 contribution towards the cost of a replacement alloy wheel. This may occur where the alloy wheel is cracked, or perhaps buckled, and the wheel cannot be repaired.
Where a bodywork repair falls within the policy limits but a repair is not possible, then £150 contribution towards a body shop repair is available. This may occur where a repair has been authorised by our claims team, but when the repairer attends but determines they are not able to provide a suitable repair.
If an interior repair cannot be repaired by a suitable local repairer then we can provide £100 as a cash settlement, in lieu of the repair.
In all cases where a contribution is paid:
the claims must fall within the terms and conditions and policy limits
once an invoice is received to show the repair has taken place
We are aware that you may buy a policy intending to keep the vehicle for the full term of cover, but plans can change. As such, we have designed the policy to provide options for transferring the cover.
There are two options:
If you sell the vehicle in a private sale we can transfer the policy to the new, private owner, subject to a £35 administration fee.
If you sell the vehicle and buy a new one from a dealer then we can transfer the cover to your new vehicle. The first transfer you request is free of charge, with all subsequent transfers subject to a £35 administration charge.
All transfers are subject to the agreement of the policy administrators. They may also ask for evidence of the new vehicles' condition, for example, a set of photographs of the alloy wheels.
Our claims team will nominate a repairer for your claim, and the work they do is guaranteed. The largest national franchise we use is called Revive. They offer the following guarantees for the work they provide:
Minor bodywork damage - A Lifetime Guarantee for as long as you own the vehicle
Alloy Wheel Insurance - One year guarantee on the repair
Revive have a 5 Star rating on Trustpilot with nearly 6,000 reviews to give you confidence in what they do.

How many claims can I make?
The combined number of claims you can make in any one year is 5. So that could be 2 for alloy wheels, 2 for bodywork and 1 for interior repairs, for example.
Is there a maximum number of claims for any one element of cover?
Only with the alloy wheel section, that is capped at a maximum of four in one year.
Who does the repairs?
The insurer has a list of approved repairers. The largest is Revive, who is a nationwide franchise for SMART style cosmetic repairers. There can be options to nominate your own repairer with the prior agreement of the claims team. This circumstance may be agreed if one of the approved repairers is unable to provide a suitable repair, or the repair is more specialist than the repairer can provide, eg a diamond cut alloy wheel that needs a unit based repair.
Is a 'factory finish' guaranteed?
No, the only way to get a factory finish every time is to send the repair back to the factory to do. The repairs are to a highly professional standard that would be hardly noticeable to the naked eye.
Can I carry over any 'unused' claims to the following year?
No, the policy allows for a combination of up to 5 claims per year of cover (with a maximum of 4 of the 5 being for alloy wheels). The first year starts on the day the policy begins. If you make say only 3 claims in that first year you cannot carry over the remainder to the following year.
What happens if you cannot repair the damage?
If the damage falls within the permitted eligibility terms of cover, eg you get damage of less than 30cm on your door but the repairer cannot match the paint finish, or you get alloy wheel damage that cannot be repaired as the wheel is cracked, then there are cash contributions available.
This would mean that you could choose to take the vehicle to a body shop, or buy a replacement alloy wheel in our examples above.
In order to claim these cash contributions, you must provide a receipt to show the work has been done by a bonafide repairer.
The cash contributions are up to £150 for the Alloy Wheel or Minor Body Repair Insurance elements, and up to £100 for the interior repair aspect.
If the damage is outside the terms laid out in the policy, eg the body damage is 40cm, then no cash contributions can be claimed.
What type of damage cannot be covered by this insurance
Examples would include where the vehicle would have to go to a body shop for a repair, and it could not be fully repaired by a mobile repairer. An example might be where you have a large scratch across the bonnet of your car. Large, flat panels normally have to be repairer with a full paint respray at a body shop. That is not covered by this cover.
What type of alloy wheels can be covered?
We can cover standard, manufacturer fitted alloys of up to 22 inch in diameter. We can cover diamond, laser-cut and standard painted alloys in most cases.
Types of alloys we cannot cover would be ones with a chrome finish, those with a split rim or any aftermarket alloys/ .
If you are concerned whether your alloys would be covered please send us a photo of the alloys and we can ask the underwriters to check for you.
Can the policy be transferred?
Providing that the new vehicle qualifies for cover then our underwriters will consider a transfer request. They may require evidence of the condition of the new vehicle (for example, photographs of the wheels on the new vehicle).
Providing the underwriters agree to the transfer we can perform this request once, free of charge, during the policy term. Any subsequent transfers are subject to a £35 administration fee.
If you sell the vehicle privately, then we can apply for a transfer to the new vehicle owner (can be a great tool to help sell the vehicle!). This would be subject to a £35 administration charge.
Do I have to buy Gap Insurance from you to be eligible to buy Smartcare Cosmetic Insurance too?
No, we allow you to buy the Smartcare Cosmetic Insurance as a 'stand-alone' product, without having to buy Gap Insurance also.
Please bear in mind that you have a 30 day waiting period at the start of the cover (just like our individual Alloy Wheel, Scratch and Dent and Tyre Insurance cover) during which time you cannot make a claim.