Total Loss Top-Up Gap Insurance
New for 2023
Are you struggling to find GAP Insurance for your car or van?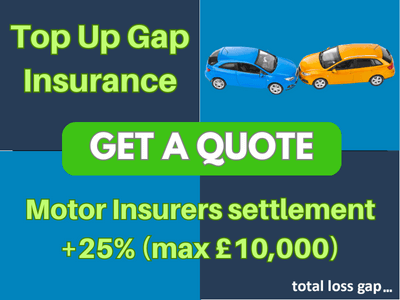 Total Loss Top Up Gap Insurance could be the answer.
How does Top Up Gap Insurance work?
In the event of a total loss, this Top Up Gap Insurance can top up the motor insurer's market value settlement by an extra 25%, capped at a maximum of £10,000.
So, if your car was stolen and your motor insurer paid out a market value of £30,000, then the Total Loss Top Up Gap Insurance can pay an extra £7,500 in a claim.
The settlement includes a maximum of £250 towards your motor insurer's excess deduction.
Features of Total Loss Top-Up Gap Insurance
Can be used for vehicles up to 12 years old

Can be used for vehicles with up to 120,000 miles

Can be used for vehicles bought privately or at auction

Can be used when your current Gap Insurance runs out

Can be used for cars and light commercial vehicles

Policy can be bought at any point of your ownership
Key eligibility requirements for Total Loss Top-Up Gap Insurance cover
You must own, or can own, the vehicle on cover

The vehicle must not have previously been declared a total loss

The vehicle cannot be used for hire and reward (taxi, courier, driving tuition)

The vehicle must be in Glass' Guide

The vehicle must be covered by a comprehensive motor insurance policy
This policy is ideal if you own a vehicle outright or have a finance agreement outstanding where you no longer qualify for the standard types of Gap Insurance like Return to Invoice or Vehicle Replacement cover. For example, you have owned the vehicle for more than 180 days.
It can also be ideal when you are unsure how long you may keep your vehicle and want to take cover on a year-by-year basis.
Please note this policy is not suitable for lease arrangements where you have no option to own the vehicle. If you have a vehicle on a lease, you currently have cover with Total Loss Gap, and you are looking to extend your lease beyond your current Gap cover, then we may be able to provide a Lease Gap Top-Up for a year for you.