The UK pothole crisis
The UK has had a long and complicated relationship with potholes. The majority of British people will have suffered the impact of pothole damage to the tyres on their car, or their wheels. It has been a problem we, as a nation, have been dealing with for decades. They've always been around on the country's local roads, but nowadays it's getting out of hand.
There are about two million potholes filled in on the UK roads and it is costing local councils millions of pounds to fix them.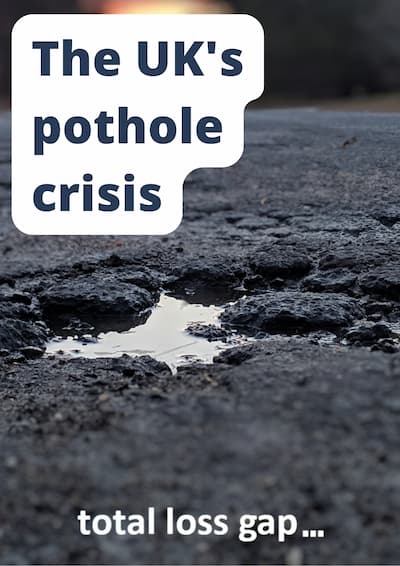 The problem is that, despite the best efforts of councils to fill them in, they just keep coming back. There are an estimated half a million potholes to fill at any one time. And it's not just potholes that are the problem – it's the state of the roads, in general, causing significant road safety issues.
According to the Asphalt Industry Alliance (AIA), the backlog of essential carriageway repairs needed to bring UK road surfaces up to standard has reached a staggering £12.64billion.
The AIA's annual ALARM survey says that despite an average rise in highway maintenance budgets of four percent last year, the amount being spent on resurfacing the country's roads, and general road maintenance, is down as council highways engineers direct funds to address potholes.
This is having a knock-on effect on the economy, as businesses are spending more on repairing damage to their vehicles caused by the poor state of the strategic road network. The AA estimates that pothole-related damage costs its members alone £333 million a year.
The government has promised to invest £6 billion in pothole repairs but the true cost to clear the pothole crisis may be closer to £10 billion.
Key features of the 2022 ALARM pothole findings:
With an extra £1 billion annually required to achieve their own road-conditions standard, local authorities would need extra funding before considering plan resources for the backlog of repairs to road surfaces.
Over the next five years, more than a fifth of local roadways will require repair approximately 37,000 miles of roadway.
Every 19 seconds, one pothole is filled.
Roads are resurfaced on average every 70 years.
In 2021, breakdowns due to potholes reached a three-year high.
RAC patrols attended a three-year high number of pothole-related breakdowns in 2021, with 10,123 incidents occurring that year, which comes out to an average of 27 per day.
In 2021, 19% more suspension springs broke down, wheels were deformed more frequently, and shock absorbers were broken much more often in RAC customers than in 2020 and 2019. It seems you are much more likely to damage suspensions than you have been before.
This form of road damage is such a danger that breakdowns and accidents typically occurring daily are reaching a crisis point.
Causes of the pothole problem
There are a number of reasons for the UK's pothole problem. The first is that, as our roads age, they start to deteriorate. This is particularly the case with roads that were built in the 1960s and 1970s, which are now reaching the end of their lifespan.
Another factor is the varying conditions of the weather. Potholes are caused when water seeps into cracks in the road surface and then freezes. This expands the cracks and makes them bigger. When cars drive over these expanded cracks, they can cause the road to collapse, creating a pothole.
The UK has seen some extreme weather conditions in recent years, which has made the problem worse. In particular, the "Beast from the East" – a cold snap that hit the UK in 2018 – caused widespread damage to roads.
Finally, it is worth noting that councils are under immense pressure to save money. This means that they are often reluctant to carry out extensive road repairs, preferring instead to patch up potholes as and when they appear.
This is a short-term solution that does not address the underlying problem. As a result, the pothole problem is likely to continue until there is a significant investment in road repair and maintenance.
What can be done to fix the pothole problem?
There are a number of things that can be done to fix the pothole problem. Firstly, the government needs to invest more money in road repair and maintenance. This will require a significant financial commitment, but it is the only way to truly solve the problem.
Secondly, councils need to be more proactive in carrying out repairs. This means carrying out preventative maintenance rather than simply patching up potholes as and when they appear.
Finally, drivers, those cycling and event pedestrians need to be more aware of the problem and report potholes to their local council. How many claims and how many complaints will not go unnoticed. By doing this, we can apply pressure to those in charge and ensure that the issue is given the attention it deserves.
Cover the costs of Alloy Wheel and Tyre damage
Suffering damage to your alloy wheels or tyres when you hit a pothole in the road is becoming ever more commonplace.
You can try to claim off your local council for damage you have suffered due to the condition of the roads.
You could also try to claim off your motor insurance for damage suffered to your vehicle.
If you want to avoid potentially lengthy processes, like claiming off your council or making a claim on your motor insurance then you could try the following:
Alloy Wheel Insurance - to cover the cost of alloy wheel repairs following accidental damage
Tyre Insurance - to cover the cost of tyre repair or replacement following accidental damage
Tyre & Alloy Wheel Insurance - a combined package to cover both tyres and alloys against the cost of repairs and/or replacement tyres and alloys.
How you can help fix the pothole problem
There are a number of things that you can do to help fix the pothole problem. Firstly, you can report potholes to your local council. This will help to raise awareness of the issue and apply pressure to those in charge.
Secondly, you can support campaigns calling for more investment in road repair and maintenance. By doing this, you can help to bring about the changes that are needed.
Finally, you can spread the word about the problem. By raising awareness of the issue, you can encourage others to take action and help make a difference.
As the UK's road network suffers from neglect, our roads are deteriorating and potholes are becoming an ever-present problem. If we want to fix this issue once and for all, then we need to work together as a society on three fronts: by reporting potholes when they appear; pushing for more investment in maintenance, and spreading awareness of the problem. Only then will we be able to put an end to this issue once and for all.