The £890 million bill to fix alloy wheels in the UK
When was the last time you checked the condition of your car's alloy wheels? A recent survey has discovered that more than 33% of cars have damaged alloy wheels in the UK. Of those surveyed, it was found that the most common cause of damage is 'kerbing'.
Kerbing, as many will appreciate, occurs when your make contact with the kerb on the roadside, usually when parking. The resultant damage can leave a nasty and unsightly scrape.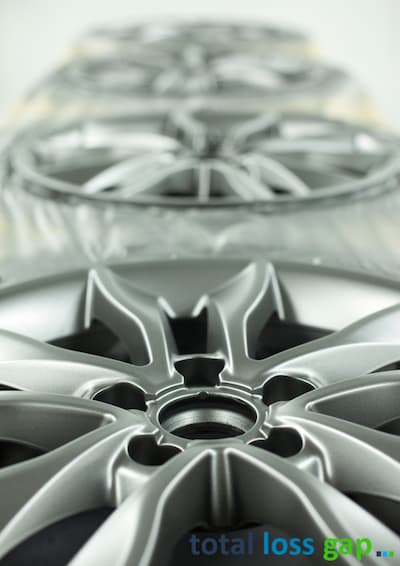 The damage to the rim will need an alloy wheel repair to rectify and make the wheel as good as new again.
Alloy wheel damage survey results
According to a survey of around 2,000 vehicle owners, more than 33% of drivers may have vehicles with damaged wheels.
Damaged wheels, according to Skoda, can cause tracking troubles and steering problems in addition to compromising the car's appearance.
More than 50% of consumers who responded to the poll revealed that the alloy wheel scuffs were the result of a kerb collision. As a result, it became the singular most important element in the development of wheel-related problems.
Why are more alloy wheels being damaged?
Bigger cars, larger wheels, low profile tyres, and more specialist finishes like diamond or laser cut have all become increasingly popular, but can also be easier to damage.
Diamond cut alloy wheels often require specialist equipment above what may be required to repair standard alloy wheels. This can also increase the overall cost of a repair.
How much does alloy wheel repair cost?
In the United Kingdom, according to Skoda's estimations, there may be more than 13 million kerb damaged alloy wheels. Repairing them all would cost £890 million, based on the average repair cost of just under £68 per wheel.
The price can vary depending on where you get the alloy repair done. As mentioned above, diamond cut alloy wheels can be more expensive to repair. Specialist equipment may be required.
Alloy wheel damage, who is to blame?
At the very least, UK drivers were willing to accept they had alloy wheel damage. However, it appears in most cases it was someone else who caused the damage. More than 80% of those polled stated that a family member was responsible for the wheel damage, not themselves.
How does alloy wheel damage occur?
Even though parking was confirmed as the most common cause of alloy wheel damage, 33% of those polled said they were "very confident" when it came to parking. 45 percent of those polled, on the other hand, said they seek to prevent the kerbing peril by parking in bays whenever possible.
Less than 20% percent of those asked confirmed parallel parking as their preference.
Skoda confirms new parking assistance on 4th Gen Fabia
Skoda's questionnaire was conducted in conjunction with the launch of the company's new, updated Fabia supermini. The new Fabia is on offer with the option of Park Assist 3.0. This feature can manoeuvre the car into a parking space, braking to bypass obstacles and avoiding contact with those mischievous kerbs.
Buy Alloy Wheel Insurance to cover the cost of repairs
As the survey on vehicle owners confirmed, it is very easy to damage an alloy wheel on your car. The cost of a refurbishment or repair can vary, but Skoda indicated that the average cost may be in the region of £68 per alloy wheel refurbishment or repair.
For example, the Alloy Wheel Insurance offered by Total Loss Gap allows for up to 4 claims for alloy wheel refurbishments per 12 months of cover. There is a maximum of 4 years you can take on the policy.
You can also look at the 'combined' cover that allows for alloy wheel refurbishment claims as part of the policy.
These policies would include:
Complete Wheel - Combined Tyre & Alloy Wheel Insurance
SMARTCare - Combined Alloy Wheel, Scratch & Dent, and Interior trim damage Insurance.
The Complete Wheel allows for up to 4 claims per year for alloy wheel refurbishments AND up to 4 claims a year also for tyre repairs or replacements.
The SMARTCare cover allows for up to 5 claims a year to mix between alloy wheel refurbishment, minor bodywork damage, and interior trim repairs. There is a cap of 4 out of the 5 claims a year that can be made for alloy wheels but no more.
There is a £10 excess per claim on any of the alloy wheel insurance products we provide.
For more information, please click the 'Additional Cover' tab on the top menu or give us a call.