Latest claims examples for Total Loss GAP - August 2020
Saturday 15th August 2020 15:57:05
Latest Claims from Total Loss GAP - August 2020
In our latest claims data, we can see examples of different types of GAP claims, and how customers have benefitted from Total Loss GAP cover.
GAP Insurance Claim 1 - £33,801 paid out
Our first claim is the largest in a settlement. Our customer purchased a new BMW X5 40D M Sport in March 2016. At that time they paid £57,711 for the vehicle.
They purchased a 5 year Total Loss GAP Invoice and Replacement policy for £331 at that time.
In August 2020 the vehicle was sadly written off by their motor insurer. The subsequent claim made on their Total Loss GAP policy saw them paid £33,801 to top up their motor insurers settlement.
GAP Insurance Claim 2 - £10,170 paid out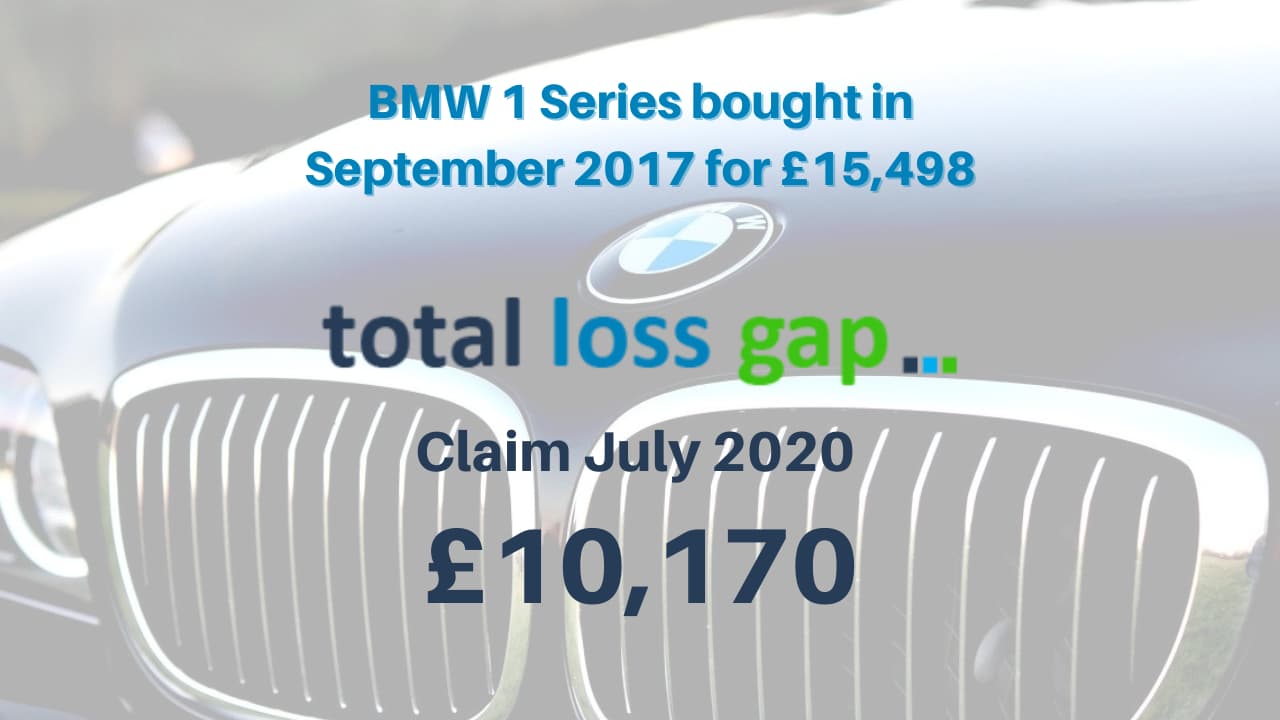 Our second claim was for a used BMW 116D purchased in September 2017 for £15,498.
Our customer purchased a 5 year Total Loss GAP Invoice and Replacement GAP at that time for £219.79.
In July 2020 the BMW was declared a total loss. The subsequent GAP claims saw a payout of £10,170 made to our customer.


GAP Insurance Claim 3 - £1597.26 paid out
Our final claim example is slightly different. This time it was to cover a leased Volkswagen. The VW was leased for 3 years in July 2017.
Our customer took out a Total Loss Gap Lease/Contract Hire GAP policy, with the added Deposit Protection cover. Her total premium was £124.87.
Just two weeks before the end of the lease, the customer reported to our claims team that the vehicle has been written off.
When you are so late into the lease it is expected that the market value settlement, provided by your motor insurer, will be enough to clear the lease settlement. That proved to be the case here.
However, our customer was able to claim back her initial rental payment as she has taken the deposit protection option. She also could claim back £250 towards her motor insurers' excess deduction.
This meant she got back a total of £1597.26 even with only a matter of days left on her lease, and no shortfall to cover to clear that lease.
The nearly £1600 settlement will provide a handy amount towards a deposit for a replacement vehicle.
Remember, all Total Loss GAP products and claims processes are now Trading Standards approved through our accredited claims team at Spectrum Insurance Services. As we hope our claims prove, you are well protected and in very good hands!