Contract Hire Gap Insurance | Lease Hire Gap Insurance at Total Loss Gap

Update 2nd March 2019
In this guide we explain why you may want to get Gap Insurance on a lease or (PCH) contract hire vehicle. We explore the advantages of cover and explain further features, benefits and options.
Contract Hire, or Lease Gap Insurance can cover a potential shortfall on a lease, if the vehicle is a write off.
In this situation you may find that your motor insurers settlement may not be enough to pay off your lease. This creates a shortfall, payable by you.
The outstanding lease settlement can be from a number of factors, including;
outstanding lease rentals still due.

the residual value determined by the lease agreement. This can differ from the current 'market value'.
With Contract Hire/Lease Gap the 'gap' can be covered for you.
This policy ONLY comes into effect if your lease vehicle is declared a 'write off' by your motor insurer.
This can happen following;
accident (fault or non-fault)

theft (recovered or not)

fire

flood
This means your motor insurer does not repair or replace the vehicle. Instead, they pay you the market value of the vehicle at that time in settlement.
To qualify for our product you must be able meet the following criteria:
You have a lease agreement with no option to own the vehicle

You have had the vehicle no more than 180 days

Your vehicle is less than 8 years old AND has less than 80,000 miles on the clock when you take out the policy

The vehicle has a purchase value (p11d value) of less than £75,000

Your monthly rentals are less than £500 per month

You have a fully comprehensive motor insurance policy in place

Your vehicle is not being used for taxi, courier, driving school, daily car hire or used as a pool car
A typical lease arrangement will see you paying an advanced rental. This is often 3, 6 or 9 of the equivalent monthly rentals, effectively as a deposit payment.
You may see this represented as something like
9+35 at £300 per month
This means you pay an advanced rental of 9 payments of £300 (£2700) followed by 35 months at £300 per month.
A standard Contract Hire Gap policy can cover a shortfall as described earlier. The issue is that you would not get any money back.
This means you have to find another advanced rental payment to put towards a replacement vehicle.
Unless you have opted to protect the deposit rental too.
Total Loss Gap Lease & Contract Hire Gap now features optional Deposit Protection. This means that you can protect an advanced rental payment of up to £3,000. In the event of a claim you would get your initial rental payment back with this cover.
In our example, the deposit rental of 9 monthly payments (£300) can be claimed back to use for your next vehicle.
Products in the market do differ. Here we highlight some key features of Lease/Contract Hire Gap from Total Loss Gap.
No Maximum Claim Limit - This policy is not limited to a set maximum payout. Some other products ask you to set a maximum your require. This can be difficult to predict on a lease.
Up to £3,000 Deposit Protection (Optional) - If selected, this policy will also cover up to £3,000 of your deposit rental.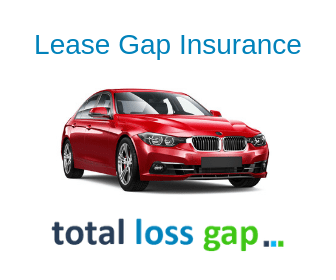 2 - 4 Years Cover - Depending on the length of your agreement, you can choose up to 4 years cover.
Motor Excess deduction contribution of £250 - A motor insurer may deduct an excess from their settlement. If they do this then our policy can give you up to £250 back towards this.
As ever, we try to keep things simple.
We ask you to run through some simple eligibility questions. Once this is completed we only ask you two things:
the monthly rental amount you are paying in the lease. e.g. £250 per month

the number of years cover you need.
That is it.
Pop those details in and you will be provided with a premium price for the full term. The only option you can consider adding is the one for Deposit Protection. If you wish to add it, click down the drop down box below the premium price and tick the option displayed.
When you take a lease/contract hire deal on a vehicle you are committing to the terms of that agreement. If the vehicle is written off part way through then you will have a settlement to pay. If the motor insurers settlement is not enough to cover this then you can have a shortfall to pay.
Whether you need Gap Insurance on a lease is a matter for you. It is neither a legal or contractual need to have Gap. But, if you feel you would like any potential shortfall protected then it can be a great idea.
We have a dedicated page on the question. If you want to learn more please follow:
We have to be clear what we mean by the term 'by itself'.
If you are asking whether you can buy Gap Insurance without having a motor insurance too, the answer is NO!
Gap Insurance can only be used if you have a fully comprehensive motor insurance policy in place too. In the event of a claim, the motor insurer must pay out the market value settlement on your vehicle. If so, then you can make a claim on your Gap cover.
If you buy Gap Insurance alone, without motor insurance in place, then you are not legal to drive on the road.
If you are asking whether you can buy Gap Insurance away from the supplying motor dealer, leasing company or finance house then the answer is yes!
You can buy Gap Insurance to cover your lease from any independent provider like Total Loss Gap. Your dealer or leasing company cannot impose a rule that you buy from them.
The dealer should not tell you that you have to buy from them, or include it in the deal without your consent. If they do then you can discuss that with the Financial Conduct Authority.
Like all insurance the answer comes down to your view on the risk. Around 500,000 vehicles are written off each year in the UK (between accidents, thefts, fire etc). Thefts in particular are on the rise, with vehicles with keyless entry often targeted.
If you have a vehicle on a lease then you are obligated to pay that lease back. If the vehicle is written off then the amount provided by your motor insurer may not be able to pay the lease off for you.
You could be left in a position of having to pay off the shortfall on any lease, if the vehicle is written off. Plus you may have to find a large deposit 'advanced' rental to put down on a replacement vehicle. Lease/Contract Hire Gap, with the option of deposit protection, could cover these costs for you.
As always there is a cost to providing the peace of mind that a lease gap policy can give. You have to judge whether it is value to you.
This is a good question. Your motor insurer should, in the event of a total loss, cover for you the market value of the vehicle. This value will be at the time of your claim, not the value when new or at the time of vehicle purchase.
This may be different on a new car in year one, but we will cover that better in the next question.
If you only get the market value in settlement then would this be enough to cover your lease settlement? If not then this leaves a shortfall payable by you.
The issue is that lease agreements can differ in what they expect you to pay back if the vehicle is written off. Some may expect the market value plus all outstanding rentals. Others may need a lower percentage of rentals still due.
All these imponderables mean that Gap Insurance can be a valuable asset to cover your lease.
Many motor insurers offer to replace your vehicle in the first year with another new model. If that is the case then do you need Gap Insurance to cover your lease too?
There can be some reasons why you should not rely on 'new for old' particularly if you have a lease.
It is often a condition that you are the owner of the vehicle to get replacement cover from the motor insurer. With a contract hire agreement the leasing company is the owner.

The leasing company may want a monetary settlement for the vehicle, not a replacement.
Check your motor insurer terms AND what your leasing company would allow. In our experience 'new for old' cover is rarely applicable on a contract hire or lease agreement.
Simple answer is no.
Lease Gap is designed to cover a shortfall on a vehicle you do not, and never can own, as part of the lease agreement. Return to Invoice can cover you back to the price you paid for the vehicle, as shown on the purchase invoice in your name.
With a lease there is never a purchase invoice for the vehicle in your name, therefore you cannot claim the invoice price back, as you have never paid it.
For more information on other types of Gap Insurance try our Complete Guide to Gap cover.
Pretty much so, yes. The policy is designed to pay off the shortfall payment on your lease. This would be the same if it was a personal lease (or Personal Contract Hire - PCH) or a business lease.
It will cover the 'early termination charge' only if the vehicle is written off by your motor insurer. That could be following a fire, theft, flood, accident etc. If you simply choose to hand back the vehicle voluntarily, say after a redundancy, then this would not be covered by our lease Gap Insurance cover. You would probably need to find another product called Early Termination Insurance to cover those eventualities.
Total Loss Gap lease and contract hire Gap can cover light commercial vehicles up to 3500kg. There are some restrictions on vehicle use (eg we do not cover 'hire and reward', courier etc). If you want to have a chat about your vehicle please just give us a ring for clarification.