Gap Insurance for Tesla
Are you looking for Gap Insurance to cover your Tesla? Like any vehicle, a Tesla can lose value over time. It also could be a target for thieves, or be unlucky enough to be in an accident, fire, or flood. If this was the case then your standard motor insurance may only pay out the then, market value of your vehicle. This may be substantially less than you originally spent.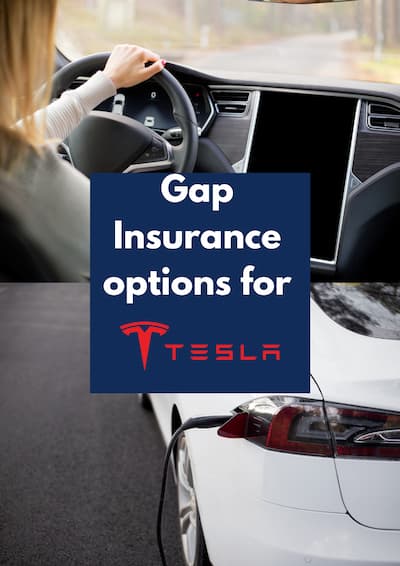 The situation described above is less than ideal for Tesla owners. You may be in a position where you need to pay off a finance agreement or lease. Even if you paid cash for the vehicle your motor insurer's settlement may leave you some way short of being able to buy a replacement Tesla model.
This is where Gap Insurance for your Tesla can help.
But first, a little bit about Tesla
Tesla is a name that nearly everyone will know. The company has grown exponentially since it was founded in 2003.
Tesla is named after Nikola Tesla, the Austrian-American inventor best known for his work on the alternating current electrical system, amongst other things.
The first model they produced was the Tesla Roadster.
Recently Tesla became only the sixth company in US history to reach a value of above $1 trillion.
Tesla CEO Elon Musk is reported to be the richest person in the world.
Current Tesla models in the United Kingdom include:
Tesla Model 3
Tesla Model S
Tesla Model Y
Tesla Model X
You may like: Top 10 fun facts about Tesla
Gap Insurance options for Tesla Gap Insurance cover
Gap Insurance is another type of car insurance that you can get for your Tesla. It covers an aspect of depreciation of the Tesla if the vehicle is written off.
Exactly what is covered depends on how you have secured your Tesla model.
Gap Insurance for a Tesla on a lease
If you take your Tesla on a lease with no option to own the vehicle written in, then this can be covered by a Lease & Contract Hire Gap Insurance policy.
This is designed to cover you, in the event of a total loss, between:
the motor insurers settlement at point of total loss
and
the outstanding lease settlement to pay off the lease in full
This means that if your motor insurer declares the vehicle a total loss then any shortfall between the motor insurers settlement (usually the market value at the time of loss, based on the vehicle age, mileage, and condition) and the amount required to pay off your lease at that time.
How Lease & Contract Hire Gap Insurance works with a Tesla on a lease
Let's show you how this would work by way of an example.
Let's say you secure a Tesla 3 on a contract hire agreement for 3 years. You pay a monthly rental of £450 and have an initial advanced rental of £2700.
So your payment profile will look a little like 1 month at £2700 and 35 further months at £450.
Let's presume the vehicle is stolen a year into your lease.
At this time your motor insurer agrees to pay the market value of the vehicle as a settlement. Let's assume this is £30,000 at this time.
Your leasing company says that you need to pay £33,000 to settle the lease off in full.
Lease & Contract Hire Gap Insurance can cover the difference between the motor insurers' settlement and the outstanding lease settlement if the vehicle is written off.
In our example, the Lease & Contract Hire Gap can cover the shortfall between the lease settlement (£33,000) and the motor insurers' settlement (£30,000), a difference of £3,000.
Deposit protection with Lease & Contract Hire Gap Insurance
There is one, final, aspect to consider when looking at covering your lease. In the lease arrangement, you will most likely pay an advanced rental. This is a larger payment (usually a multiple of months upfront) that you pay as your first monthly instalment.
With a standard Lease & Contract Hire Gap settlement you could not recover this advanced rental 'deposit'. However, with some Lease & Contract Hire Gap coverage, you will either have a fixed amount of advanced rental cover, or you can opt for a level you require.
This means you can claim back your advanced rental payment (or as much as you have covered with your Guaranteed Asset Protection cover) to use as a deposit on a replacement vehicle.
With Total Loss Gap, we offer the option to cover up to £3000 of an advanced rental payment with the additional Deposit Protection cover.
Using our example lease above, if you have opted to cover all of your advanced rental payment then you could recover the full £2,700 advanced rental you paid.
Why is this the best Gap Insurance for a Tesla on a lease?
The key is that with contract hire, or a long-term rental, style lease you do not have the option to own the vehicle written into the lease. This means your liability for the lease is simply to make sure you can settle it off.
Your ability to do so is supported by a fully comprehensive car insurance policy. Additional cover from a Lease and Contract Hire Gap Insurance can ensure you can cover any request to settle the lease if the vehicle is written off.
What you cannot claim from a Gap policy is either the original invoice price (by a Return to Invoice) or the future replacement costs (via a Vehicle Replacement Insurance). This is because you cannot own the car. There is no invoice in your name for the purchase of the car.
Gap Insurance for a Tesla purchased outright or financed with an option to own
The following Gap Insurance options are available for Tesla owners who have:
purchased the car outright
secured the car via a PCP finance agreement
secured the car via a hire purchase agreement
secured the car via any finance agreement with an option to buy the vehicle.
There are two main types of Gap Insurance you consider under the purchase types described above.
Combined Return to Invoice Gap Insurance
Combined Return to Invoice Gap is designed to bridge the gap between:
the motor insurers settlement at the point of loss
and
the original purchase cost of the Tesla model, or the outstanding finance settlement on your loan if it is higher.
This type of Gap Insurance is the typical style you are offered at a motor dealer. Even though there are many types of Gap protection available, Return to Invoice is the one many people associate with the term 'Gap Insurance'.
The basis of RTI Gap Insurance is simple. Between your motor insurance company settlement and the Gap Insurance, you are looking to protect the original invoice figure you pay for the vehicle.
If you have a finance agreement linked to your auto, and the finance settlement is higher than the original price you paid if the vehicle is a write-off, the 'combined' element means that the financial settlement will be met.
How Return to Invoice Gap Insurance works with a Tesla
For example, let us say you ordered a brand new Tesla Model 3, rear wheel drive, at the purchase price of £41,990 (correct as of 9th November 2021, according to Tesla).
Two years later the Tesla Model 3 is stolen. Your motor insurers say the market value is then £31,000.
This means that your Combined Return to Invoice policy can insure the difference between what you first paid for the vehicle (£41,990) and the £31,000 market value settlement from your motor insurer. A difference, in this example, of £10,990 that you will receive in a settlement.
In short:
£41,990 (Invoice Price) - £31,000 (Motor Insurers settlement) = £10,990 (Return to Invoice Gap settlement)
Combined Vehicle Replacement Gap Insurance for Tesla
Possibly the most comprehensive level of Gap Insurance available for your car is a Combined Vehicle Replacement Insurance. Why is this? We will explain further but first, one very important point to make.
Unlike Return to Invoice Gap products (quite simple, they protect back to the invoice), Vehicle Replacement Gap products can bear the same basic name but can differ quite drastically in what they can insure. This can impact any settlement you get so you must check each policy in detail.
To be clear, the 'VRI' Gap Insurance from Total Loss Gap works in the following way. It can insure you, in the event of a total loss declaration by your motor insurance company, between your motor insurers settlement and the HIGHER of:
the outstanding finance settlement
the original invoice figure you paid
the cost of the equivalent replacement vehicle
So, if you buy a new Tesla Model 3 for £41,990 on PCP Finance credit and the car is later written off then the Total Loss Gap Invoice & Replacement Gap (to give it the full title) would look at four figures.
What is the motor insurance settlement?
Is there a finance settlement, if so what is it?
The original invoice cost you paid (we know it is £41,990)
The cost of a brand new Model 3 AT THE TIME YOU CLAIM.
Let's put some example figures on those to illustrate better.
Motor Insurance settlement - £30,000
Finance Settlement - £28,000
Original Invoice cost paid - £41,990
Current replacement cost of a brand new Model 3 - £45,000
In this example, the Total Loss Gap I&R policy would bridge the difference between the motor insurance settlement (£30,000) and the cost of the current replacement new Model 3 at £45,000. This is because the new Tesla 3 has a higher cost than both the finance settlement and the original invoice figure.
In our example, a Gap settlement of £15,000 would be paid.
Why is VRI Gap Insurance from Total Loss Gap the best choice?
Of course, every Gap Insurance provider will think their product is better than the rest. With our 'VRI' product we think there are features that mean you have more flexible protection as well as terms that allow for a larger settlement than some other providers.
Not all 'VRI' Gap Insurance products have all of these features, you must check to see what they have in comparison.
Key advantages of Total Loss Gap Invoice & Replacement Gap
the policy will pay to the higher of the finance settlement, original invoice cost paid or the replacement cost at the time you claim.
settlement is paid in cash and you are not forced to take a replacement vehicle of our choice and locating.
if the equivalent vehicle is no longer available then the 'replacement' cost is calculated by adding 10% to the original invoice price of the insured car.
Even these few features alone could mean the difference of thousands of pounds in a claim. This is why we feel TLG provides the best option for VRI style insurance in the United Kingdom today.
FAQ's on Gap Insurance for Tesla
Does Tesla lease have Gap Insurance?
From the research we have done, it does not appear that any of the finance arrangements available via the manufacturer have Gap Insurance included. This makes some sense as Guaranteed Asset Protection is an optional product, and should not be automatically included in any finance payments.
Is Gap Insurance legally required?
No, certainly not. Whilst Gap Insurance makes perfect sense to many vehicle purchases, it is optional insurance and not compulsory insurance.
Is Gap insurance a waste of money?
An interesting question. Like all insurance, Gap cover is a decision for you and its value depends on how much you are concerned at the risk you can cover.
If you can afford to pay any shortfall on a lease, or the difference between the motor insurance company settlement and the original invoice price, then Gap Insurance may not be good value for you.
We suspect that many car owners, especially those who buy high value vehicles like a Tesla, would see good value to a Guaranteed Asset Protection policy.
Why Gap Insurance for a Tesla?
As nice as a Tesla may be, like nearly every car, it will go down in value over time. Depreciation on cars is expected. Indeed with premium and performance vehicles you could see higher depreciation than most.
If the car is written off by accident, theft, fire or flood then your car insurance protection may be limited to the market value of the car at the time of claim. Guaranteed Asset Protection can provide you with extra money, dependent on the type of policy taken.
The argument for Guaranteed Asset Protection for a Tesla is as valid as it is for any other car.
Do I need Gap Insurance if I have new for old protection with my motor insurer?
New car replacement, or new for old, on a motor insurance means that your motor insurance company can replace your vehicle with a brand new car, instead of paying you the market value as a settlement.
Not all motor insurers will offer this. Even those that do will often have terms and conditions in place that means not every customer is eligible.
However, if you are happy that your motor insurer can provide replacement protection in the first year then you could take a Gap Insurance policy and defer the start date until the end of that period.
Please read our report on Deferred Gap Insurance - Total Loss Gap 365 for more information.
Do I have to buy Gap Insurance from Tesla themselves?
No, you do not have to buy official Tesla Gap Insurance from the manufacturer themselves. You can buy a policy from any number of online or independent companies. Total Loss Gap being one of them.
If you want to see what we can currently provide please call us free on 0800 195 4926 or click for a quote on the website online.
Can I cancel Gap Insurance if I sell my car?
Yes, providing you have not made a claim on your policy you normally have some options with what you can do with the remainder. Cancellation is one option. You can claim back the pro rata value left in the policy, less a £35 cancellation fee.
You may also be able to transfer the balance of your policy to another eligible vehicle.
How do claims work if I need to use my Gap Insurance policy?
If your car was unfortunate enough to be involved in an accident, fire, flood or suffer a theft, then you can be eligible to make a Gap Insurance claim at that point.
Your motor insurers will make an offer to you, should they write off the vehicle as a total loss. DO NOT accept any offer until you have lodged the Gap claim with the claims team.
Contact the team with the details and they will provide you with any advice and take you through the process.