Toyota has announced that they are extending the warranty for Toyota owners to ten years. They want to provide their customers with peace of mind and ensure that it will last them a decade without any significant problems when they buy a new car.
This is excellent news for all Toyota vehicle owners!

Toyota has called the new scheme 'Relax' and hopes it will provide current and potential Toyota car owners with increased peace of mind.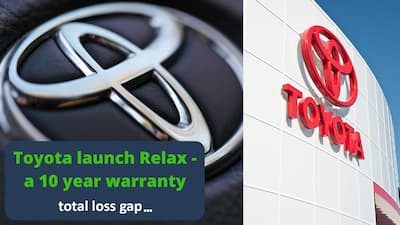 Relax is in place of the previous Toyota warranty, which was regarded amongst the best in the business, offering cover for every new car for up to five years or 100,000 miles!
Why Toyota Relax is better?

The Relax scheme will automatically cover three years or 60,000 miles. Then, if you get your vehicle serviced at the correct intervals, a 12 month/10,000 mile extension is added each time.


Owners of used Toyota cars can also gain access to the new scheme, as long as they service their vehicles at the franchised dealer network.


This change will make it easier than ever before to buy a brand-new Toyota mainly, providing confidence for long-term ownership. It will also provide competition to the likes of Hyundai and Kia with their extended periods of manufacturer warranty terms.


So confident are the Japanese manufacturer of their reliable cars that they will also offer flexible repayment options at 0% APR for servicing and repair costs.


The Toyota Relax program promises to make older cars feel new again. Suppose you're an owner of a vehicle that's out-of-warranty and not been serviced within the dealer network. In that case, the company will provide cover for the remaining period up to ten years as long as you get it serviced at a Toyota service centre.


All in all, the new Toyota Relax warranty sounds a good deal all round.