Total Loss GAP products just got better
Thursday 13th August 2020 16:40:50
Total Loss GAP products just got better
After reviewing our Total Loss GAP product range with our underwriters, and having taken feedback from customers, we have added some new features to make our market-leading products even better.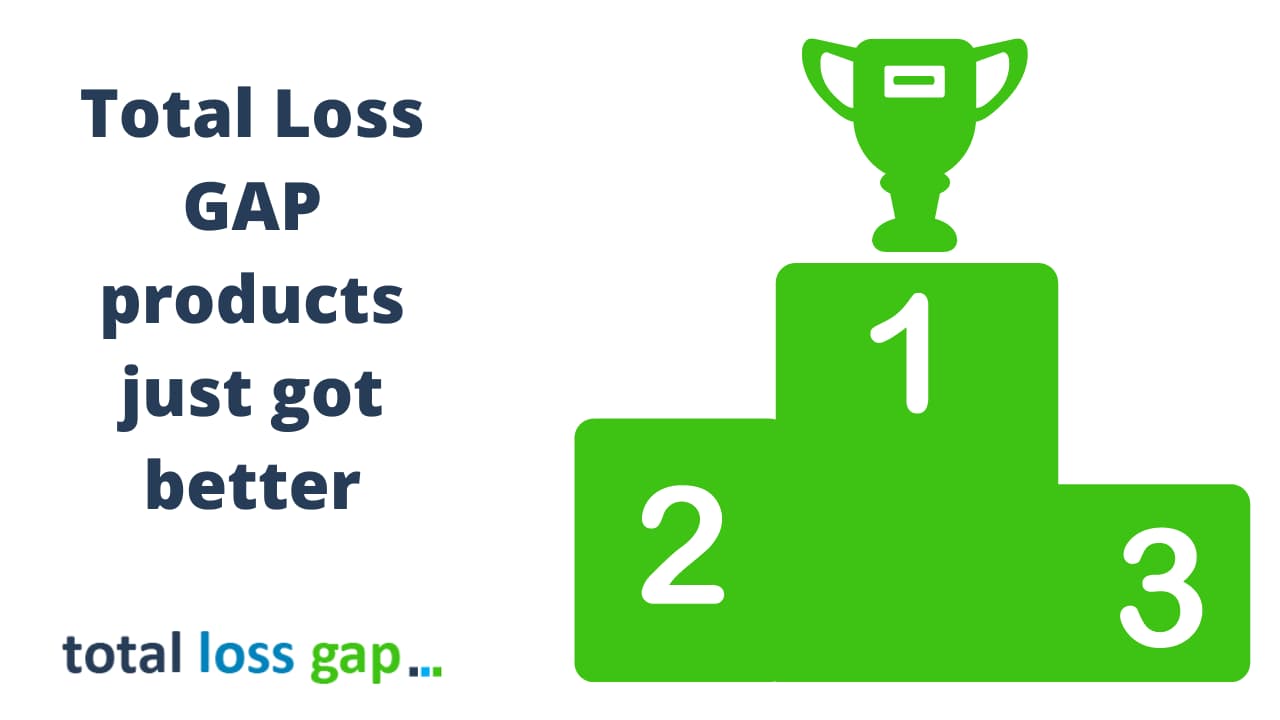 Total Loss GAP has always looked to give the best policy terms and the best features to our customers. Here is a brief rundown on what we have now added to all new policies sold.
1. Total Loss GAP Combined Invoice and Replacement cover - change one
Our premier product has been developed over a number of years. We think it is as good as you will find in the market today. But, we think we have improved it more again.
The area that we have looked at is how we determine the cost of a replacement vehicle. We have reworded the definition to make this even clearer.
We have also listened to customers' feedback on what would happen if the manufacturer does not have a superseding or replacement model. With many manufacturers making changes to product lines, including deleting models entirely, it is clear this is important.
In the past, if a replacement vehicle cannot be identified then we have only been able to settle to the original invoice price you paid. This is the same approach that many others in the market.
However, this is not an RTI policy at heart, so we have made the following change.
If the manufacturer has not replaced the vehicle with a superseding model then we will cover the original invoice price paid PLUS and an extra 10% in value.
So if you bought a vehicle for £40,000 then this would mean if no replacement vehicle can be identified then you would get covered back to £44,000 as a replacement cost.
2. Total Loss GAP Combined Invoice and Replacement GAP - change two
After taking customer feedback into account, we have determined that customers purchasing older vehicles see little value in having the replacement cost covered. They are happy just to cover the original price they paid.
So our new TLG Combined Invoice and Replacement GAP is now available for vehicles up to 4 years old and with less than 80,000 miles on the clock.
Moving on from that....................
3. Introducing our new TLG Unlimited Return to Invoice cover
Total Loss GAP has a second GAP Insurance policy to consider for customers buying vehicles outright, or through PCP, HP, or a bank loan. Well, we say 'new', but in reality, it is simply the 'improved' TLG version of the GAP product often provided by motor dealers.
The new TLG Unlimited Return to Invoice cover offers policy terms for of up to 5 years for vehicles new to 8 years old, with less than 80,000 miles at the time of vehicle purchase.
Just like TLG Combined Invoice and Replacement GAP it offers:
It offers an unlimited claim limit
Cover for deferred start dates
Cover for paint protection costs and dealer accessories
Essentially, the only difference between the TLG Invoice and Replacement GAP cover and the new Unlimited Return to Invoice cover is the replacement element is not there.
So for vehicles less than 4 years old, you will have a choice between the premium TLG Invoice and Replacement cover or an Unlimited RTI policy.
If your vehicle is more than 4 years old then you will have the option of the Unlimited RTI policy only.
4. Lease and Contract Hire GAP - now includes deposit protection as standard
We have seen many customers on lease having to pay higher advanced rentals for their lease agreements.
Before we allowed up to £3000 of any advanced rentals with the addition of an extra, optional premium.
We have simplified this again. Now you have the option of a £1000, £2000 or £3000 advanced rental cover, so customers can match more precisely with their requirements.
One more bit of good news..............
All Lease and Contract Hire GAP policies, until further notice, will come with £1000 of advance rental cover as standard. You can opt to increase this to £2000 or £3000 for an extra premium if you wish.
This means even if you only have one payment upfront, with the standard Lease and Contract Hire GAP policy from TLG, you can get this deposit payment back, of you need to make a claim.
5. Transfers
All products are available to transfer to another eligible, qualifying vehicle during the policy term.
The first transfer is free of charge.
Should you wish to make any further transfers on the same policy there will be a £35 admin fee charged to do so. All transfers remain subject to insurer approval.
And finally............
One aspect of our insurers' review was that we have seen a steep increase in GAP claims in the last twelve months. This has meant we have had to review our pricing and raise some premiums in line with instructions with our insurers.
Whilst we never like to increase any premium, we still believe that our products offer fantastic value when compared to others in the market.
We hope that the additional features and products also mean we continue to offer market-leading products for our customers also.