Top 10 tips for buying your first car
Buying your first car is an exciting milestone in life. You may have recently passed your driving test and looking to get some independence, but it also comes with a lot of responsibility. What are you going to do about insurance? Will you need to finance the car? How much money can you afford for fuel every month?
You might be thinking that these decisions seem way too big right now, so let's focus on what we know- finding our perfect match.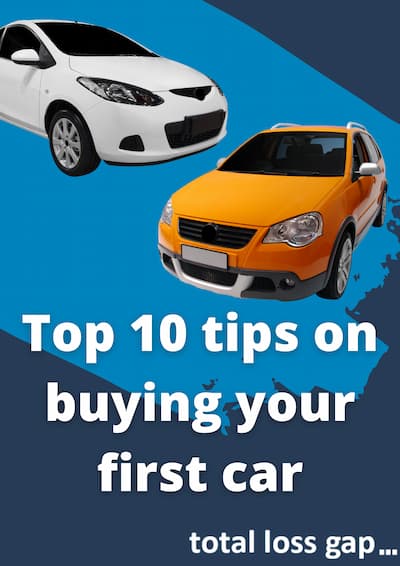 1. Personal Budget: What is your price range?
To figure out how much car you can afford, take a look at your budget and consider the monthly cost of fuel, car insurance, and any other expenses that you may want to purchase. It would help if you did this before going to a dealership, so you have a range of cars in mind.
Remember you have several things to factor in when thinking about your budget when buying a car. These include finance repayments, insurance costs, running costs (road tax, fuel, servicing and maintenance) and more.
2. Think about how you can fund your first car purchase
How are you going to pay for your first car? You could pay cash or take out a loan. The loan could be a personal loan, through a bank, or a hire purchase style agreement through the motor dealer.
Some people may have cash on hand that they can use for their first car purchase. Others might be eligible for other types of finance where a down payment is given upfront, and the rest of the loan is paid off over time.
Banks can usually offer lower interest rates for personal loans than motor dealers can on hire purchase, particularly on a used car. However, it is worth checking from motor dealer to motor dealer what deals they have available.
Banks finance, and interest rates, will not typically be impacted if the car is new or used. Hire purchase agreements at dealers could see higher interest rates for older cars.
You may be fortunate that you could borrow the money from family or friends. They are usually the most favourable in terms of borrowing costs!
3. Where will you buy your first car from?
If you are lucky enough to be in the market for a brand new car, buying a car will be from a franchised main dealer. Do not forget to check online with the likes of AutoTrader and Carwow. They often have deals from main agents that you may not be offered in person.
If it is a used car you are buying, you could buy from a main dealer, a used car specialist or even privately. All can be considered. However, you will not have access to all dealer facilities, like servicing or finance, if you go down the private route for your first car.
When you are thinking about which may be the best new cars, then both new cars and used cars can be considered.
4. Read Reviews on Cars Online
To stay up-to-date with car reviews. These can be on a review website, car magazines, forums and social media. This step is a worthwhile investment, especially if you buy your first car and are not very knowledgeable about cars.
This will help you to have an idea of what kind of car fits your need. It also can be a valuable guide to see which cars are the most popular or reliable.
Bear in mind people often only post 'bad' stuff about their cars. If you see a few moans, it does not always mean all owners hate their cars. It will, however, give you some idea of any common problems that occur.
These common problems can often be rectified, and you can ask if this has been done to a particular car when you are aware of it.
5. Get an Expert Opinion
Ask for help from someone who knows about cars. Ideally, they will have personal knowledge of the vehicle, having owned it in the past or have it now.
Ask family and friends as they will have an opinion on the cars they have owned or know of people who own an example of a car you are considering.
6. Meet with Salespeople at Local Dealerships
Get to know your local salespeople. Tell them what you are looking for. Even if they have not got what you want precisely, they can keep an eye out and tell you if something comes up.
You can test drive a few cars before making your final decision. Try as many as you can. See if you can drive them to places that you would typically go. Try them on your driveway, your workplace and anywhere you might typically use a car. You can see if they fit into spaces that you would typically use, like a driveway or parking space.
7. Think about what you need in your first car
We suggest a sensible balance between style, comfort and reliability in your first car. It's easy to get sucked into looks and gadgetry but not forget the essential things. Get the best value for a budget while you are on a budget.
If your budget is restricted, then you may need to be flexible on your choices. You may not be able to tick every box you want, but it could broaden your options.
Some people can get fixated on the car having the best fuel economy, for example. This may mean they discount petrol cars from their thoughts, and only look at diesel. However, if you are only doing 5 or 6,000 miles a year, the extra cost of diesel fuel could nullify any ongoing savings you may make.
Do you need a manual gearbox or an auto? If you could go with either, then that opens up more choices for your new car.
8. Shop around for Car Insurance
Just don't do it while you are test-driving cars! By the time you have bought a car, it's way too late to be shopping around for insurance. It would help if you always had insurance understood and in place before you buy a car.
When looking at prospective cars, you can check out the insurance group. These run 1-50, with 1 being the lowest. The lower the insurance group, the lower the insurance costs are likely to be.
Other factors that can come into play will be the driver's age (young drivers pay much more for car insurance than older ones), your occupation and when you live.
Even if you think that insurance is costly, it's worth getting quotes from several companies; they vary widely in price. This also includes hunting around for the best student discount or whatever discounts are available for you.
Insurance is likely to be quite steep on new drivers with your first car, and this needs factoring into your budget.
Remember, you can also get GAP Insurance cover if you are concerned about recovering your money if the vehicle is written off. We should be able to help you with that!
9. When you identify a car you like, check it over.
Make sure everything works. Treat it almost like a driving test for the car. You may want to ask a mechanic or even get an official inspection done by the likes of the AA to give you extra peace of mind.
Make sure there is a service history. If a car has had only one previous owner from new, you're laughing - keep it on your shortlist. You should also check that a reputable garage has done any work needed.
Have a good look at the paintwork. If you notice lots of minor scratches and dents, walk away. The car will have been treated to many minor repairs that could add up to be quite expensive.
If you're still keen after checking out the exterior, take a peek inside. You'll be able to tell if the car has been smoked in but also get a feel for how it's been looked after.
Check that all of the dials work and are easy to read. It should go without saying that all of the seat belts work too.
The biggest tip here is to trust your gut. If something feels off, leave it be and move onto the next car.
After you've found your perfect car, go over the paperwork with a fine-tooth comb.
Does the cat have a warranty? Many cars, when new, have a manufacturers warranty for three years. This is transferred to the next owner if still in force.
If no manufacturer's warranty is left, used car dealers will generally put one on for you. Check what it covers.
If you are buying a car privately and there is no warranty on the vehicle, you can generally find a third party cover online if you want the added security of cover.
One essential check on your first car - the history
Run a history check on the car, or if buying from a dealer, ask them to do it and give you a copy.
You can do this through the likes of HPI, The AA or Total Car Check.
Please do not buy a car that has been registered as stolen or has outstanding finance on it. You will not get this money back, and the car could be taken from you!
If you buy a car privately, make sure that the seller has the car logbook. This will show any finance on there as well.
10. The legal bit
When you've finally chosen your dream car, it's time to change its name. To do this, you need the logbook (V5C). This will list all of the previous owners and details about the car.
If you have any queries regarding a car, then contact your local DVLA office online, as they can answer most questions or give advice.
If you have bought your car privately, you will need to change the name in the logbook. You can do this at your local DVLA office but be aware there is a limited amount of time to buy a car privately before having to go through an MOT/insurance etc., so if buying from a dealer or friend, it's worth checking with them first.
If you are buying the car from a dealer, they will take care of this for you.
If everything is in order and your V5C has been signed over, then that is all you need to change the name. You can now get insurance on your new car!
Ready to buy your new car?
Buying your first car can be a daunting experience, but it doesn't have to be. By following the tips we've provided in this blog post and doing some research on what you're looking for, you'll find yourself with a new set of wheels faster than you know! The most important thing is that you trust your gut when making these decisions. If something feels off or if there are any uncertainties about the vehicle - don't buy it.
You should also make sure that all documentation checks out before buying from either an individual or dealership, as they may offer different service levels depending on who is selling the car.
Lastly, enjoy driving around in your new car. Your first car is one you will never forget!