What is e10 petrol, and why is it being introduced in the UK?
Did you know that a new style of unleaded petrol is being introduced to UK fuel stations in a few days? Here we explain precisely what e10 fuel is, why is it being introduced, and why you need to check your car for compatibility.
e10 petrol explained
e10 petrol is more eco-friendly gasoline containing up to 10% ethanol; e10 fuel will be available at fuel stations across the UK on September 1st, 2021. Following consultation with motorists and the automotive industry, the Department for Transport announced the introduction of e10 petrol.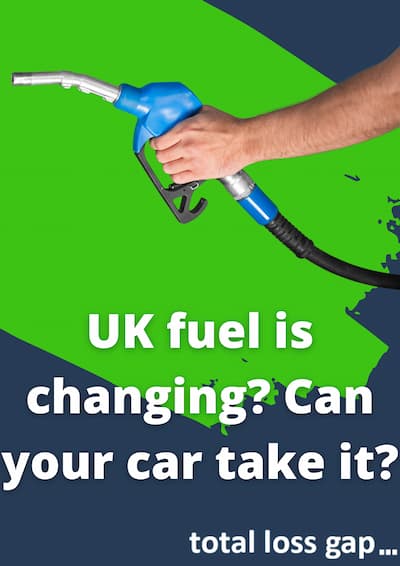 e10 fuel, a blend of unleaded petrol and ethanol made from low-grade cereals, sugars, and waste wood, is predicted to reduce CO2 emissions by 750,000 tonnes a year. This is the equivalent of taking 350,000 cars off the road.
e10 is replacing the e5 petrol we currently have on forecourts. e5 contains no more than 5% ethanol, whereas e10 fuel comprises at least double that amount.
Benefits of e10 seen around the world
The e10 blend was used in other countries like Belgium, Finland, France and Germany.
In fact, fuels in Brazil are now infused with as much as 11% ethanol, and the European Union is using up to 46% E10 fuel has grown its average annual share of sales since its introduction at the start of 2011.
The Finnish Oil and Bioenergy Society reported in 2015 an increase of 63% from 2015.
The UK should launch e10 fuel because it will help the country reach its net-zero carbon by 2050 and give an economic boost to its biofuel industry.
Will you notice any difference in the performance of your car?
E10 has a potential lower efficiency than currently blended E5 fuel, and the problem has intensified in the smaller versions. Energy Information Administration estimates that ethanol produces about 33% less energy than purine unleaded ethanol. RAC fuel spokesman Simon Williams said the introduction to E10 petrol would only reduce fuel economy by a tiny amount.
Ethanol also produces less power when used as fuel. You may, therefore, spend more money on petrol for the same distance travelled.
There may be a slight decrease in CO2 emissions, but a slightly worse fuel economy may counter these gains. The actual benefits in emissions come from the growing of the crops to make the fuel.
Are all vehicles compatible with e10 fuel?
Some vehicles may not be compatible with e10 petrol due to engines designed to run on pure gasoline or diesel fuels only.
The good news is that all new cars built after 2011 fine to use e10 petrol. It was a requirement from that time that all new cars run on e10.
However, older cars tell a different story.
A recent estimate by The National Automobile Club suggests that over 634,000 cars are not compatible with e10. One hundred fifty thousand vehicles were designed between 2000 and 2010.
The difficulty comes in that some cars are fine for e10, some not.
The higher bioethanol in e10 petrol can dislocate deposits in older engines and fuel systems and cause stalling. It could also damage some seals, gaskets, metals or plastics. The RAC Foundation says many problems are old but very effective runabouts that help travellers get about quickly to places on a highly tight travel budget. e10 - fuel can cause problems within the combustion engine or in the internal systems.
How can you check if your car can take e10 fuel?
Handily, the Government has launched an e10 compatibility checker online. If you want to check your vehicle, then follow this link: https://www.gov.uk/check-vehicle-e10-petrol .
What is the alternative if your vehicle is not compatible with e10?
All is not lost if your vehicle is not compatible with e10 petrol. 'Super-unleaded' petrol is e5 based petrol, and that can be used instead. It is a little bit more expensive than the current standard unleaded, but at least you still have a fuel option to use.
Classic vehicles
Several old model manufacturers have their cars not listed in car checkers. Owners should continue to use e5 (97+ octane) gasoline available in the super unleaded.
For additional information, we suggest calling classic car owners clubs and associations and garages who might be able to assist.
We can not provide details of vehicle compatibility between older cars and the latest models. You should check the Government website first to see if your vehicle is e10 compatible. If in doubt, then you should consider using the super unleaded option.
Can you choose between e5 and e10 standard unleaded petrol?
No, once a petrol station has switched over to e10 fuel, they cannot supply any other type of petrol.
How much does e10 cost?
The price is set by the fuel retailer and may vary from place to place.
Fuel prices vary; however, the new e10 petrol should not cost any more at the pumps than the old e5 fuel.
It may be that some fuel stations put up prices on the old e5 petrol compared to the super unleaded, so do not automatically assume that a price increase is due to the new e10.
What will happen if I drive my car on e10 fuel and it's not compatible?
If you operate your engine incorrectly and use fuels incompatible with a traditional machine, your vehicle may have engine problems. These can include engine failure, and you could end up being stranded.
The RAC recommends that drivers check their car manufacturer's handbook if they are in doubt about the compatibility of their vehicle with e10 petrol, or indeed any other type of fuel.
E10 petrol is an environmentally friendly fuel that will help to reduce greenhouse gas emissions, but it may not be compatible with your car. You will need to check if your vehicle is compatible, and the Government have provided you with a link to do so. If you don't have a newer-model car or one that's been made after 2011, then super-unleaded petrol might be more cost-effective as well as being available at all major outlets.
And do not leave it too much longer to find out. September 1st is only a few days away.