Nio, the Chinese electric car maker, whilst relatively unknown in the western world, is quickly gaining ground on Tesla as one of the leading builders of electric vehicles.
Nio cars launched, and are still primarily, in the Chinese EV market, although Nio has now entered the EV market in Norway.
So Nio is not in the UK yet, but the way they are going it may not be too far before you can buy a Nio. We thought you might like to get to know them a bit better first.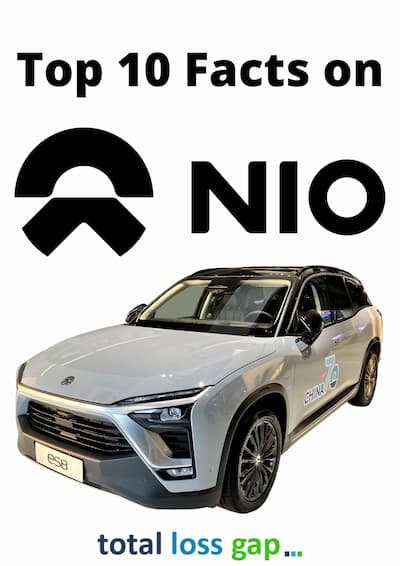 We hope you will see they look to provide strong competition to Elon Musk's Tesla, as well as the traditional motor manufacturers like Ford, Volkswagen, and Toyota as the EV industry evolves.
Nio is already one of the biggest auto manufacturers in the world
With a market capitalisation of $46.97 billion (at the time of writing in December 2021), Nio is now in the world's top 15 largest automakers in terms of market value. That puts it ahead of the likes of Hyundai, Kia, Volvo, Nissan, and Renault.
Nio - Top 10 facts about the electric car maker
1. Nio is headquartered in Shanghai, China
Nio has its headquarters in the Chinese financial capital of Shanghai.
Nio also has offices around the globe in places such as London, Munich, Silicon Valley, and Beijing.
2. The company launched in November 2014
Nio was founded by Chinese entrepreneur and CEO William Li , the Chairman of Bitauto and NextEV. Li remains Chairman and CEO to this day.
Several companies invested in Nio post-launch, including Lenovo, Sequoia, and TPG.
3. Nio's first car model, the EP9 Sports Car, was unveiled at the time Nio was launched.
The EP9 model is not a road legal car. Six examples have been sold to Nio investors for £2.5 million each. The EP9 is designed for track use only currently.
4. The EP9 is a all-electric supercar that set fastest lap times at a number of race tracks
These include Circuit Paul Ricard, Circuit of the Americas and Shanghai International Circuit.
The EP9 has set a lap time at Nurburgring of 6m 45.9s in 2017. This makes it the world's fastest production electric car.
5. Nio commenced sales of the ES8, their first mass-produced car, in June 2018
The ES8 is an all-electric SUV that has a range of up to 311 miles (500 kilometers) on a single charge according to WLTP figures, based on the 100 kWh Li-ion battery version.
The ES8 is currently only available in Norway in Europe.
6. The remainder of the Nio range currently is the ES6 mid-size SUV and the EC6 mid-size cross over coupe SUV.
Future models include:
EF9 - a Minivan
ES3 - Subcompact SUV
ET5 - Compact C-segment saloon
ET7 - Full-size E segment saloon
7. Nio has delivered a record number of EV's in 2021.
Nio had delivered 80,940 electric vehicles in the first eleven months of 2021. This represented a year-on-year increase of 120%, still with December figures to be confirmed and added.
This all followed a strong third quarter to 2021 for Nio Inc.
The sales figures for new cars are particularly impressive for the Nio company when you consider the development and production of new cars in the industry, in general, that have suffered from semiconductor supply issues.
Although Nio is almost exclusively selling new cars for the Chinese market, they are already active in Norway and Nio announced they expect to move into other countries, like Germany, in 2022.
8. Nio has innovative battery swap solutions for charging your EV.
In China, the company has set up battery swapping facilities at service stations. In this solution, customers can drive to a Nio battery swap station and quickly switch their drained batteries with fully charged ones.
The battery swapping process takes about three minutes, around the time it takes to fill up with fuel, and much less time than it takes to recharge an EV battery.
Nio has installed around 300 battery swap stations around China already, with plans for another 100 in the next couple of years.
China is a big country, and the ability of Nio cars to drive long range could be a huge advantage. Fast battery swap facilities will also attract new customers.
You are still able to charge a Nio like you would with other electric cars.
With this in mind, Nio announced a joint venture deal with energy giants Shell. As part of this deal, there will be a new network of Battery Swap facilities at charging stations in China.
Also, new battery swap facilities will be installed at Shell fuel stations in Europe.
9. Nio plans to achieve profitability by 2022
Nio is a loss-making business currently, although revenue is improving year on year. It was reported that Nio lost around $700 million in 2020. The figures for 2021 are yet to be finalised.
Nio states that they hope to be a profitable business by the end of 2022.
10. Nio provides luxury showrooms called Nio House for their customers.
Nio aims to build a community for the luxury brand. To assist this they employ futuristic showrooms to emphasise the fundamentals of the Nio brand.
These showrooms are called Nio Houses and incorporate several elements to provide a luxury experience for owners.
A Nio House will feature several elements. These are:
The Gallery - on the ground floor, open to the public and displaying the Nio's model range.
Upstairs is the VIP Area or Club Zone. This is for community members only, and has located within it the Lounge, Open Kitchen, Forum, Labs and Joy Camp.
The Nio House aims to provide the ultimate customer experience, thus enhancing the luxury brand.
So there you have it. The low down on Chinese luxury electric car manufacturer, Nio. Although not available for sale in the UK right now, with the growth of Nio and the Electric Car market in general, you may find a Nio House pops up close to you sooner rather than later.
Elon Musk and Tesla, are on notice. The luxury Electric vehicle EV market has a new, serious contender from China.