The RAC has just released a survey that shows that over half of UK motorists believe they pay more than they should for their car insurance. The survey, conducted by the organisation, found that 51% of drivers think the cost is too high.

This is a problem because many people may be spending money unnecessarily and could be looking at cheaper options elsewhere. However, exits fees may form a barrier to consumers looking for lower insurance premiums.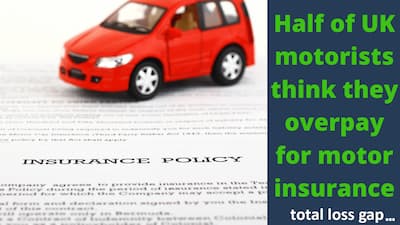 Over 2,100 motorists took part in the survey, with several points coming out of the questionnaire.
50% of those asked said they would have to pay administration or exit fees to switch insurers before the end of the term.
54% of those polled said they find it difficult to predict the annual mileage they may cover, particularly following the Covid pandemic.
27% expected they would cover fewer miles in the future in the wake of the global pandemic.

Whilst the initial premium price is important, the overall package is the most crucial aspect of any insurance policy. Having hefty admin fees for cancelling, changing address, or changing the vehicle can mean that the overall cost of the insurance can be much higher than you think.
Similar tale with GAP Insurance?
Of course, we often here the difference in premium between motor dealers and independent providers like Total Loss Gap means that motorists can overpay for GAP Insurance too. Remember, in a report conducted by AutoExpress, Total Loss Gap was 59% cheaper than the motor dealer. Like always, it pays to shop around.