As motorists attempt to top up with fuel during the current filling station shortages, jerry can sales have skyrocketed.
According to Halfords, sales of jerry cans and plastic fuel containers have increased by more than 1,650 per cent.
Did you know the term 'jerry can' to the fact that it was originally a German invention?
There have been several warnings, including one from the AA, advising vehicle owners against carrying petrol and diesel in containers in their cars. The AA state that this action is "incredibly, incredibly dangerous". Notwithstanding, many drivers try to maximise forecourt visits by purchasing as much fuel as possible.
There is no specific law forbidding the storage of fuel in containers, though. However, several organisations warn against carrying fuel in containers unless absolutely necessary.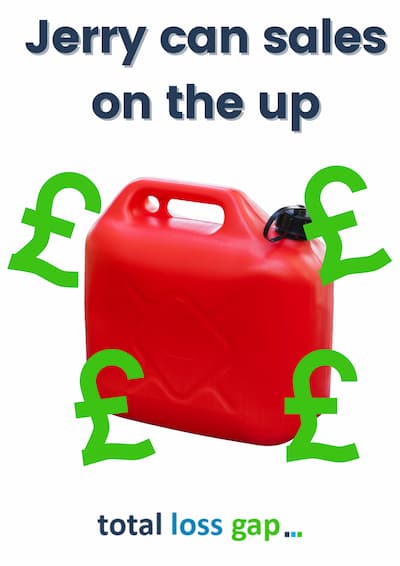 The police have reminded motorists that carrying fuel in a container in poor condition can be classed as a dangerous and a hazardous load.
Is it legal to use fill up jerry cans to transport fuel?
It is not against the law to carry fuel in storage cans. However, there are some rules you have to adhere to.
If it's a metal vessel, such as a jerry can, the total amount of fuel stored is limited to 20 litres.

In plastic cans, drivers are only allowed to carry a total of 10 litres.

Motorists can carry a maximum of two 10 litre metal jerry cans plus a maximum of two 5 litre plastic cans. This means a maximum of 30 litres of fuel can be carried in total.

All storage cans used must state the words' petrol' and 'highly flammable'.

The containers must be strong and not likely to break under normal circumstances.

Containers should prevent the escape of petrol fumes.

Containers with petrol in can only be stored in the boot.
The high demand for petrol has seen a massive increase in jerry can sales. Motorists are looking to keep their cars filled up with fuel, and some have even resorted to carrying it around with them!
The shortage of fuel at filling stations makes buying as much petrol as possible difficult; this led many drivers to carry fuel containers on the backseat or boot of their car.
But does that make it safe?
Fuel spills are common during accidents, but these spills could be exacerbated by having extra storage cans onboard your vehicle. To avoid any risks associated with transporting fuel illegally, you should only purchase enough petrol as you need, and so as safely as possible.
We hope our post helps you understand how and when to use a jerry can if you need to.