Total Loss Gap products and claims now Trading Standards approved
We understand, at Total Loss Gap, that consumers look for confidence and reassurance when they are buying cover.
With tens or thousands of customers, each year taking out cover from Total Loss Gap. We do hope our policies speak for themselves.
To provide further assurances, our products and claims processes now have further accreditation from a famous organisation.
All Total Loss Gap products and claims processes have now been approved and accredited by Trading Standards. This is through the Buy With Confidence scheme in the UK.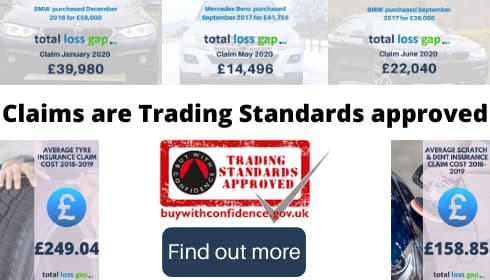 As part of this process, the Trading Standards team has visited our claims administrators at Spectrum Insurance Services in Sheffield.
Trading Standards have assessed both our products and the claims processes provided by Spectrum. Trading Standards will also continue to monitor feedback from customers.
To confirm, all Total Loss Gap products provided by Spectrum Insurance Serices Ltd, are now Trading Standards approved.
These include:
We understand that there is any number of badges, banners, and awards that some providers may display. However, often these are simply provided by media companies. Often these are in exchange for payment, sponsorships, or other commercial agreements.
Trading Standards are a Government-backed organisation, who send professional experts to undertake a 'hands on' assessment. It is not a commercial sponsorship or alike.
Total Loss Gap has been working with then team at Spectrum for five years now. We know they are extremely professional in the dealings with our customers. We think this new award only enhances that view.
For more information on the accreditation provided to our claims administrators at Spectrum please just click the Trading Standards logo here.