The Top 5 Benefits of PCP car finance
Possibly the most popular way to buy a new car these days is with a personal contract purchase or PCP deal. PCP financing has been growing steadily over the last twenty years, and there's no sign of it slowing down anytime soon!
There are lots of reasons why UK motorists buying cars opt for a PCP car finance agreement, but here we highlight the key benefits of Personal Contract Purchase deals and answer the important question.............how does a PCP work?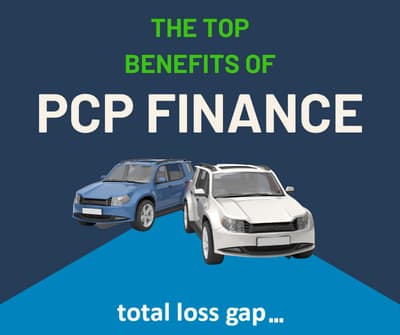 What makes this option so appealing?
Manufacturers push a PCP deal on a new car more than any other form of purchase or funding. How do they do this?
For one thing - manufacturers often incentivise car buyers with low-interest rates that don't even come close to what you would pay elsewhere on credit cards or loans; plus cashback offers, deposit contributions, or service plans.
All things considered, manufacturers make PCPs perfect if your goal isn't getting into debt but rather having some fun while saving money in the process.
What is PCP car finance?
PCP deals are a common car finance type and account for almost half of all vehicles sold in the United Kingdom each year.
Designed to offer lower monthly payment rates and flexibility, they are a good way for a driver to drive a new car, even if it will not be your own.
PCP deals have three major components - deposit, monthly payments, and a final balloon payment.
The final payments will be determined by the finance company based on the estimated car value at the end of the contractual period. It is sometimes called the guaranteed minimum future value (GMFV).
At the end of your PCP agreement you are left with three, flexible options:

Trade the car back in. Any equity can be used as a deposit for your next vehicle.
Return the car with nothing further to pay. No equity in the car at the end? Don't fancy any of the options for a new car from that manufacturer? Simply hand back the keys and walk away.
Buy the car. You can do this by paying off the Guaranteed Minimum Future Value set at the very start of your PCP agreement.
Key Benefit 1: Financing with flexibility
When it comes to purchasing, leasing provides a lot of flexibility. You may enjoy your selection of a vehicle over a fixed term and at the end-of-lease deadline, there are no questions asked - simply the return keys, trade-in or buy a new one!
Key Benefit 2: Lower initial outlay and monthly payments
PCP finance offers many benefits. Often it reduces your initial cash outlay as you do not have to pay the large deposit payment required for many HP deals or leases. Plus having a deferred payment option at the end (the Guaranteed minimum future value) means your monthly payments are lower as you do not have to pay off the deferred amount until the end.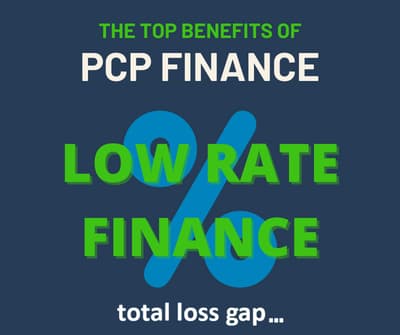 Key Benefit 3: Keeping up with the latest car models
Some people just want to keep up with the latest trends and styles, so if you are one of those individuals that can take a car on PCP finance instead of buying it outright, whilst outlaying less overall.
This allows for a shorter buying cycle and the ability to always keep a new, or nearly new car on your driveway.
If your finances don't allow for purchasing the latest vehicle outright, then PCP could offer you a way to do so.
Also, shorter buying cycles suit those who do not like to keep their cars very long. This allows you more scope to keep up with the latest technology and car models to hit the market.
Key Benefit 4: You can take advantage of the best deals from manufacturers
PCP car finance often attracts the very best offers, discounts and extras provided by manufacturers. These may include subsidised low-rate finance, manufacturers' contribution to your deposit, free servicing and much more.
Why do manufacturers offer so many incentives if you buy a car on PCP?
If you think about it there are several reasons why manufacturers like customers using Personal Contract Purchase finance, including:
a shorter buying cycle, meaning customers can buy new cars more often.
a steady stock of 2,3 or 4-year-old used cars handed back, or traded in, at the end of a PCP term. These keep used car forecourt stock boosted.
manufacturers know the length of your PCP agreement. Therefore they know when you are in a position to change the car. This helps them retain you as a customer.
Key Benefit 5: The PCP finance is secured against the car
Having the PCP agreement secured against the car and not you gives you some important advantages not found when you fund by a personal loan, for example.
Your finance provider must allow you the same advantages as any HP agreement in that you secure your repossession and termination rights.
This means that the finance provider cannot repossess your vehicle without a court order if you have paid a third of the total amount payable on the vehicle finance agreement.
More importantly, you can utilise your termination rights once you have paid half the total amount payable on the loan. This means if the car's value is not worth what is owed at that point then you can simply hand it back to end the agreement, with no further payments to pay. This should not impact your credit check or rating in any way.
Personal Contract Purchase / PCP FAQs
What is the difference between Personal Contract Purchase and Personal Contract Hire agreements?
Essentially PCP is a hire purchase agreement where you do have the option to own the car written into the agreement.

Personal Contract Hire is a fixed, or long-term rental agreement where you cannot own the car outright at the end of the contract period and there is no final payment. The vehicle remains the property of the leasing company throughout.
You need to check what kind of finance contract you have, as Personal Contract Purchase and Personal Contract Hire can be confusingly similar!
What is the downside of Personal Contract Purchase finance?
There are some arguments put forward being negative towards a PCP deal.
Do you own the car on a PCP?
The first is that you do not own the car. However, this does not mean that you cannot own the car. You have the option to pay the final balloon payment for the car at the end of the contract agreement if you wish. As it is a hire purchase style agreement, you can simply pay off the finance settlement at any given time.
Can the balloon payment be adjusted?
The balloon payment you make at the end of your PCP is normally calculated on several criteria. Chief amongst these are the annual mileage you do and the estimated end value of your car at the end.
Adding more to your initial deposit or even adjusting the interest rates you are charged may alter your fixed monthly payments but it should not impact your GFV at the end of your agreement.
The balloon payment should not be altered and is certainly fixed when the agreement is signed.
Do you pay interest on the balloon payment or GFV?
You pay interest on the whole amount borrowed, including the GFV payable at the end. Only PCP deals at 0% APR will not see interest paid on the GFV end payment.
Excess mileage charge
Your PCP fixed monthly payments are calculated on a number of parameters. The value of the vehicle, the car's value and the annual mileage you agree to as part of the PCP deal.

The theory behind using your annual mileage as one of the factors is a car with higher mileage will be worth less than a car with lower mileage. So the higher the annual mileage you do then the higher your monthly repayments will be.
Can you be charged for excessive wear and tear?
At the end of the contract, you can hand the car back. Bear in mind the loan company will be concerned as to the vehicle's condition, and how this may impact its resale value. Fair wear and tear are allowed. A big dent in the wing, or bald tyres, you may be charged for.
Why not just state you will do a lower mileage per annum?
Well if you hand back the car at the end of the agreement and the car has done more mileage than you signed up for then the finance company normally has a mileage charge for the extra that they will collect from you when you return the car.
Can you get PCP finance on just new car deals?
Although PCP is normally aimed at a brand new car, many finance providers also offer PCP finance on used cars.
You may find that the array of additional benefits found with a Personal Contract Purchase deal on a new vehicle may not be there, (low rate finance, deposit contributions etc) you will find the same shorter buying cycle and a low deposit option should help you afford your next used car.
Is it a good idea to put a big deposit into a new PCP deal?
There are a couple of advantages to a bigger deposit, and also some disadvantages too. By putting in a larger deposit you will lower your monthly payments. This is because the larger deposit reduces the amount that must be paid off between the purchase price of the vehicle and the GFV balloon at the end.
The second impact of a larger deposit is that your overall interest cost reduces as you simply have borrowed less money in the first place. This may also bring your monthly repayments more into line with what you can afford.
The disadvantages of putting a big deposit into a PCP
By putting more money down on your PCP you can lose the advantage of the low-rate interest deal offered on the loan. You could put the minimum money required down as a deposit and borrow the maximum on the loan and keep your cash in the bank.
Another disadvantage is that you have little chance of seeing your extra deposit back at the end of the agreement in the form of equity. The GFV does not change no matter the size of the deposit you put down.
This means that whilst you enjoy low monthly payments this time, when you look at your next car on PCP you may find the repayments have gone up unless you put down a similar, larger deposit again.
What can you do if you can no longer afford your vehicle on PCP?
Like any Hire Purchase style finance agreement, if you find yourself in the position where you need to sell the vehicle then you can do so at any time. You should be aware that you could find yourself in a position where you sell the vehicle but still owe more on the finance settlement than the vehicle is worth.
In this position, you may still have to pay the finance company the difference in money to clear the shortfall.
How long are vehicles normally sold on Personal Contract Purchase deals?
Normally, you would expect these types of finance available over 2,3 or 4 years, although other periods may be offered.
What happens if your new vehicle, on Personal Contract Purchase, is written off a few years into the deal?
Like any finance contract, if the vehicle you have is in an accident, fire, flood or theft then your main comprehensive motor insurance may write off the vehicle as a total loss.
If this is the case then your motor insurer will provide the market value of the vehicle in a settlement. Of course, if this amount is not enough to clear your loan settlement then you may be liable for the difference.
One solution is to take a GAP Insurance policy on your new model when you get it. New cars can depreciate over a long period, and GAP Insurance can help protect your finances.